UPDATE - 3/14@2:01PM: There's a Live Nation pre-sale running today using the password SWOON (thanks Maurice).
UPDATE - 3/12@12:51PM: VIP and Music Today fan pre-sales are underway. Note that the VIP Nation pre-sale for this show is using the password HaliRush (rather than 2013Rush like the other shows on this leg).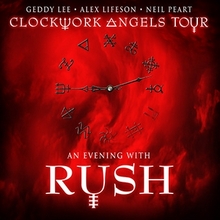 Rush.com announced this morning that they are adding a second show in Halifax on July 14th:
After the first show on July 12 sold out in minutes, Rush changed their schedule to accommodate a second show for the city they haven't been to in over 2 decades and announces a second show in Halifax on July 14 at the Metro Centre. "We are thrilled that the good folks of Halifax have forgiven our long absence from their beautiful city and have decided to come out and celebrate with us!!" said Geddy Lee. Come rock with Rush in Halifax on July 14!
Bastille Day in Halifax! Tickets go on sale this coming Saturday, March 16th at 10AM. A VIP pre-sale and Music Today Fan pre-sale will kick off tomorrow at 10AM. I'll be adding all the details to the tour section shortly. We are also expecting the band to add one more Canadian show on July 10th - the Quebec City Summer Festival being one likely option.
Related Posts:
[Rush to play the Ottawa Bluesfest on July 8th]
[Rush Clockwork Angels tour concert video to release September 24th]
[Rush Clockwork Angels Summer tour pre-sale update, additional dates rumored]
[Rush Clockwork Angels official Summer tour date announcement]
[Rush Clockwork Angels tour official tour dates; Halifax and Hamilton]
[Rush 2013 Clockwork Angels North American tour rumor update]
[Rush Spring 2013 Clockwork Angels North American tour official tour date and pre-sales announcement]
[Rush Clockwork Angels tour official attendance and sales figures]
[Rush confirm plans for 2013 North American Clockwork Angels tour]
[Robe Lighting website feature on Rush's Clockwork Angels tour; confirms 2013 North American tour?]
[Rush to film Phoenix and Dallas shows for live DVD release]
[Interview with Clockwork Angels String Ensemble violinist and concert master Joel Derouin]
[Getting to know the Clockwork Angels String Ensemble]
[Rush Clockwork Angels tour setlist update]
[Clockwork Angels tour opening night in Manchester open thread]
[Follow the Clockwork Angels tour on Twitter]
[Official Rush 2012 Clockwork Angels tour announcement and dates!]