UPDATE - 1/14@12:07PM: I now have the November 1st Atlanta show numbers (thanks Sean):
Thu, November 1: Verizon Wireless Amphitheater - Alpharetta, GA
Attendance / Capacity: 12,086 / 12,086 SOLD OUT
Gross Ticket Sales: $$926,850
----- snip -----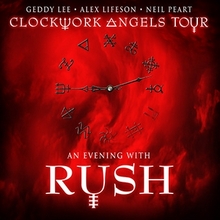 The official Billboard Boxscore attendance and sales figures for all but one of the US dates on Rush's 2012 Clockwork Angels tour were released today; only the Atlanta show numbers are still pending along with the 6 Canadian dates. 8 of the 28 shows reported were sell outs including Manchester, Bridgeport, Newark, Buffalo, San Jose, Universal City, Dallas and Houston. The highest-grossing date on the tour was the September 15th show in Chicago which grossed $1,113,292. The most-attended show was the sold out October 26th show in Buffalo where 13,215 fans filled the First Niagara Center. Note that the capacity figures reported do not always correspond to the actual physical capacity of the venue, but instead reflect the number of tickets that were made available for sale. I've already added the numbers to the tour section and have also listed them below.
Fri, September 7: Verizon Wireless Arena - Manchester, NH
Attendance / Capacity: 8,137 / 8,137 SOLD OUT
Gross Ticket Sales: $608,383

Sun, September 9: Jiffy Lube Live - Bristow, VA
Attendance / Capacity: 10,345 / 12,822
Gross Ticket Sales: $757,162

Tue, September 11: CONSOL Energy Center - Pittsburgh, PA
Attendance / Capacity: 8,655 / 10,268
Gross Ticket Sales: $507,952

Thu, September 13: Bankers Life Fieldhouse - Indianapolis, IN
Attendance / Capacity: 7,303 / 10,899
Gross Ticket Sales: $489,034

Sat, September 15: United Center - Chicago, IL
Attendance / Capacity: 11,307 / 12,130
Gross Ticket Sales: $1,113,292

Tue, September 18: The Palace of Auburn Hills - Auburn Hills, MI
Attendance / Capacity: 8,238 / 13,485
Gross Ticket Sales: $616,595

Thu, September 20: Nationwide Arena - Columbus, OH
Attendance / Capacity: 8,611 / 10,204
Gross Ticket Sales: $587,173

Sat, September 22: Scottrade Center - St. Louis, MO
Attendance / Capacity: 10,772 / 10,942
Gross Ticket Sales: $790,134

Mon, September 24: Target Center - Minneapolis, MN
Attendance / Capacity: 8,013 / 10,652
Gross Ticket Sales: $561,972

Wed, October 10: Webster Bank Arena - Bridgeport, CT
Attendance / Capacity: 7,339 / 7,339 SOLD OUT
Gross Ticket Sales: $650,355

Fri, October 12: Wells Fargo Center - Philadelphia, PA
Attendance / Capacity: 11,885 / 12,810
Gross Ticket Sales: $943,272

Sat, October 20: Prudential Center - Newark, NJ
Attendance / Capacity: 12,139 / 12,139 SOLD OUT
Gross Ticket Sales: $1,022,913

Mon, October 22: Barclays Center - Brooklyn, NY
Attendance / Capacity: 9,904 / 10,815
Gross Ticket Sales: $870,736

Wed, October 24: TD Garden - Boston, MA
Attendance / Capacity: 9,861 / 10,031
Gross Ticket Sales: $841,953

Fri, October 26: First Niagara Center - Buffalo, NY
Attendance / Capacity: 13,215 / 13,215 SOLD OUT
Gross Ticket Sales: $831,239

Sun, October 28: Quicken Loans Arena - Cleveland, OH
Attendance / Capacity: 8,025 / 10,383
Gross Ticket Sales: $594,890

Tue, October 30: Time Warner Cable Arena - Charlotte, NC
Attendance / Capacity: 7,523 / 10,095
Gross Ticket Sales: $541,143

Sat, November 3: 1-800-ASK-GARY Amphitheatre - Tampa, FL
Attendance / Capacity: 10,567 / 11,542
Gross Ticket Sales: $720,653

Tue, November 13: KeyArena - Seattle, WA
Attendance / Capacity: 9,793 / 10,199
Gross Ticket Sales: $823,060

Thu, November 15: HP Pavilion - San Jose, CA
Attendance / Capacity: 10,719 / 10,719 SOLD OUT
Gross Ticket Sales: $846,843

Sat, November 17: Honda Center - Anaheim, CA
Attendance / Capacity: 9,065 / 10,102
Gross Ticket Sales: $761,265

Mon, November 19: Gibson Amphitheatre - Universal City, CA
Attendance / Capacity: 5,981 / 5,981 SOLD OUT
Gross Ticket Sales: $706,342

Wed, November 21: Vally View Casino - San Diego, CA
Attendance / Capacity: 7,065 / 10,101
Gross Ticket Sales: $359,321

Fri, November 23: MGM Grand Hotel - Las Vegas, NV
Attendance / Capacity: 7,847 / 10,006
Gross Ticket Sales: $839,405

Sun, November 25: US Airways Center - Phoenix, AZ
Attendance / Capacity: 8,858 / 10,121
Gross Ticket Sales: $604,667

Wed, November 28: American Airlines Center - Dallas, TX
Attendance / Capacity: 10,509 / 10,509 SOLD OUT
Gross Ticket Sales: $764,483

Fri, November 30: AT&T Center - San Antonio, TX
Attendance / Capacity: 9,396 / 10,150
Gross Ticket Sales: $742,544

Sun, December 2: Toyota Center - Houston, TX
Attendance / Capacity: 11,091 / 11,091 SOLD OUT
Gross Ticket Sales: $904,931
Related Posts:
[Rush confirm plans for 2013 North American Clockwork Angels tour]
[Robe Lighting website feature on Rush's Clockwork Angels tour; confirms 2013 North American tour?]
[Rush to film Phoenix and Dallas shows for live DVD release]
[Clockwork Angels VIP package merchandise finally shipping]
[Interview with Clockwork Angels String Ensemble violinist and concert master Joel Derouin]
[Getting to know the Clockwork Angels String Ensemble]
[Rush Clockwork Angels tour setlist update]
[Rush Clockwork Angels tourbook now available online]
[Clockwork Angels tour opening night in Manchester open thread]
[Clockwork Angels tourbook and other merchandise now available at the Rush Backstage Club]
[New Rush Backstage Club contest: Win a Rush meet & greet!]
[Follow the Clockwork Angels tour on Twitter]
[Rush's Clockwork Angels tour to include a string section]
[Official Rush 2012 Clockwork Angels tour announcement and dates!]