UPDATE - 2/22@12:38PM: The 103.5 The Fox pre-sale for Denver is going on right now using the password ANGELS (thanks jfred).
UPDATE - 2/22@9:55AM: Live Nation pre-sales for most of the US dates begin at 10AM local venue time via Ticketmaster. From what I can tell the password will be dazzle, but I'll double check that at 10AM.
UPDATE - 2/22@9:40AM: VIP pre-sales for Hamilton are now sold out, general ticket sale begins in about 20 minutes!
UPDATE - 2/21@7:48PM: Reader between the wheels let me know that WTPA 92.1 out of Hershey is having a pre-sale tomorrow from 10AM to 5PM using the clever password RADIO.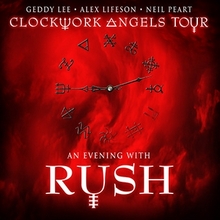 Early Tuesday morning Rush announced via the Rush.com newsletter 13 more dates for the Summer leg of the 2013 North American Clockwork Angels tour. Late last week they had announced shows in Hamilton and Halifax on July 6th and 12th respectively, making a total of 15 for the Summer leg so far. VIP pre-sales for all of these shows except Milwaukee (not a Live Nation event) kicked off Tuesday at Noon, along with Music Today Fan pre-sales for all 15 dates. As of this post VIP ticket packages remain for all of the dates except Halifax. Music Today Fan pre-sales for Halifax, Vancouver and Denver are sold out, but will remain open for the other 12 shows until 5PM local venue time today or while supplies last. AMEX Front of the Line pre-sales for the Canadian shows in Hamilton, Calgary and Vancouver are ongoing as are CITI pre-sales for most of the US dates. These will also end today at 5PM local venue time. Live Nation pre-sales for the Canadian shows (including Halifax) are ongoing using a password of dazzle. Live Nation pre-sales for most of the US dates will run tomorrow from 10AM to 5PM local venue time and should also be using a password of dazzle. There will also be a few radio-station sponsored pre-sales running tomorrow. One that we know about is a Chicago pre-sale sponsored by WLUP that will be using a password of LOOPRUSH. There's also a Y108 pre-sale for the Hamilton show going on today although I'm unsure of the password. And 103.5 The Fox is running a Denver pre-sale tomorrow although I'm not sure of that password either. If you know either of these passwords, or know of any other pre-sales going on, please let us know. General ticket sales for the Canadian dates kick off tomorrow at 10AM (Halifax is Saturday at 10AM) and the US general ticket sales begin on Monday. You can find all the times and relative links for the pre-sales and general ticket sales in the tour section. For questions regarding all the various pre-sales be sure to read my guide to ticket sales and pre-sales.

In Rush's announcement of the Spring dates last month they listed most of the cities to be included on the Summer leg, one of which was Boston. But no Boston date was included in the tour itinerary released on Tuesday. For weeks I'd been hearing that there would be a Boston date on July 13th but my guess is that a scheduling conflict forced them to remove this date at the last minute. Indeed, several New England readers forwarded me a Live Nation email newsletter they had received which mistakenly showed an advertisement of a Boston show at the Comcast Center on 7/13. Since the 7/12 Halifax date is now finalized, there definitely won't be a 7/13 date in Boston (Rush does not do back-to-back shows) although it's possible they are still working to reschedule it. Several people have also noticed the large gap of dates between the 7/6 Hamilton and 7/12 Halifax shows. Boston could potentially fit in there somewhere, but from all the rumors I've been hearing over the last week, the 7/8 and 7/10 dates will be filled by 2 more Canadian dates in London, Ottawa and/or Quebec City. The Quebec City rumor is based on speculation included in this report by the Quebec Journal from earlier in the week saying that Rush may play at the Quebec City Summer Festival. The Festival runs through July 14th so I guess it's possible they could play there on 7/14 after the Halifax show too. Maybe they'd even break out Bastille Day in celebration! :) I'm guessing that these possible additional dates will be announced soon - probably within the next couple of weeks. Unfortunately I haven't heard of any possible additions to the Western leg of the Summer tour, which is unusually light as it includes only 6 shows. More information as I learn it.
Related Posts:
[Rush Clockwork Angels official Summer tour date announcement]
[Rush Clockwork Angels tour official tour dates; Halifax and Hamilton]
[Rush 2013 Clockwork Angels North American tour rumor update]
[Rush Spring 2013 Clockwork Angels North American tour official tour date and pre-sales announcement]
[Rush Clockwork Angels Live tour DVD will NOT release in May]
[Rush Clockwork Angels tour official attendance and sales figures]
[Rush confirm plans for 2013 North American Clockwork Angels tour]
[Robe Lighting website feature on Rush's Clockwork Angels tour; confirms 2013 North American tour?]
[Rush to film Phoenix and Dallas shows for live DVD release]
[Interview with Clockwork Angels String Ensemble violinist and concert master Joel Derouin]
[Getting to know the Clockwork Angels String Ensemble]
[Rush Clockwork Angels tour setlist update]
[Clockwork Angels tour opening night in Manchester open thread]
[Follow the Clockwork Angels tour on Twitter]
[Official Rush 2012 Clockwork Angels tour announcement and dates!]