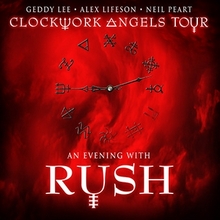 Yesterday Robe Lighting published an article to their website where they discuss with Rush lighting director Howard Ungerleider how their lighting equipment was used on Rush's Clockwork Angels tour, and the article seemed to confirm both a Spring and Summer North American tour leg in 2013:
... The tour continues in the U.S. into Spring 2013 and is then scheduled to visit Europe before returning to North America for the rest of the Summer, when it will have been on the road for a year.
Now we have an official confirmation of this via a message that was posted to Rush.com early this morning:
Thanks to all the fans who came out to see the Clockwork Angels Tour 2012! It was an amazing run - from the Clockwork Angels String Ensemble, the filming in Dallas & Phoenix, and YOU. It proved, once again, how dedicated and loyal the Rush fans are and are such a part of the overall show. Europe, are you ready? Clockwork Angels 2013 in Europe is on sale now. And just because we had such a good time, we are now making plans for more dates in the spring and summer of 2013 in North America - so stay tuned for more announcements. Looking forward to seeing you out on the road again soon!
Given that the European leg begins on May 22nd in England, the Spring leg would probably begin in mid-April with the Summer leg then running from late June or early July into August. I would anticipate that more details including ticket sale information should be coming soon. Thanks to Thomas H for the heads up.
Related Posts:
[Robe Lighting website feature on Rush's Clockwork Angels tour; confirms 2013 North American tour?]
[Rush to film Phoenix and Dallas shows for live DVD release]
[Clockwork Angels VIP package merchandise finally shipping]
[Interview with Clockwork Angels String Ensemble violinist and concert master Joel Derouin]
[Getting to know the Clockwork Angels String Ensemble]
[Rush Clockwork Angels tour setlist update]
[Rush Clockwork Angels tourbook now available online]
[Clockwork Angels tour opening night in Manchester open thread]
[Clockwork Angels tourbook and other merchandise now available at the Rush Backstage Club]
[New Rush Backstage Club contest: Win a Rush meet & greet!]
[Follow the Clockwork Angels tour on Twitter]
[Rush's Clockwork Angels tour to include a string section]
[Official Rush 2012 Clockwork Angels tour announcement and dates!]