UPDATE - 2/1@2:24PM: It looks like the Ontario show will be at the Copps Coliseum in Hamilton, but I'm not certain the date is in early August; it may instead by in early July.
UPDATE - 1/31@3:39PM: One note on the supposed Toronto date. It's possible that the show is instead in Hamilton, ON rather than Toronto. The info came from someone who heard a Y108 Rocks (107.9 in Hamilton) DJ mention it on air, and he may have misheard or the DJ may have misspoke. I'm trying to get more information if I can. That said, it definitely looks like there will be a Southern Ontario date somewhere in August.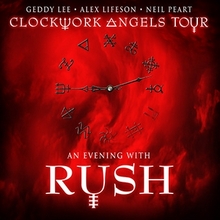 Early last week Rush announced the official North American Clockwork Angels tour dates for the 2013 Spring leg of the tour. The Spring leg will consist of a 9-date run of US dates, kicking off in Austin, TX on April 23rd and running through May 11th in Atlantic City. Pre-sales for these dates ended last week and the general ticket sale began this past Monday. In the announcement of the Spring dates Rush also revealed several of the cities that will be included in the Summer leg, including Rush's long overdue return to Halifax! The cities on the Summer leg will include but not be limited to Hershey, Wantagh, Saratoga, Chicago, Cincinnati, Milwaukee, Boston, Calgary, Vancouver, Portland, Salt Lake City, Denver, Kansas City, Halifax and Grand Rapids. They'll likely add a few more cities to this list and split up the Summer leg into a couple of stretches consisting of 10 or so dates each. Since the announcement I've received a lot of questions from readers about the Summer dates, so I thought I'd give an update on all the rumors I've heard regarding specific dates and venues. So far I've heard that Rush will play on June 28th at the First Midwest Bank Amphitheatre in Tinley Park, IL; on July 2nd at the Riverbend Amphitheater in Cincinnati; the Milwaukee Summerfest for a show around the 4th or 5th of July; on July 13th in Boston at the Comcast Center; on July 31st for a show at the Usana Amphitheater in Salt Lake City; and at the Molson Amphitheatre in Toronto in Southern Ontario sometime in August. I'm expecting that the official announcement with the Summer dates will occur within the next few weeks. For all the details on the 2013 tour be sure to check out the tour section, and for questions regarding all the various pre-sales be sure to read my guide to ticket sales and pre-sales.
Related Posts:
[Rush Spring 2013 Clockwork Angels North American tour official tour date and pre-sales announcement]
[Rush Clockwork Angels Live tour DVD will NOT release in May]
[Rush Clockwork Angels Live tour DVD to release in May]
[Rush 2013 Clockwork Angels tour rumor update]
[Rush 2013 Clockwork Angels tour announcement coming soon?]
[Rush Clockwork Angels tour official attendance and sales figures]
[Rush confirm plans for 2013 North American Clockwork Angels tour]
[Robe Lighting website feature on Rush's Clockwork Angels tour; confirms 2013 North American tour?]
[Rush to film Phoenix and Dallas shows for live DVD release]
[Interview with Clockwork Angels String Ensemble violinist and concert master Joel Derouin]
[Getting to know the Clockwork Angels String Ensemble]
[Rush Clockwork Angels tour setlist update]
[Clockwork Angels tour opening night in Manchester open thread]
[Follow the Clockwork Angels tour on Twitter]
[Official Rush 2012 Clockwork Angels tour announcement and dates!]