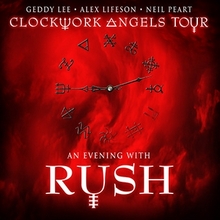 Last week MusicTAP reported that Rush's planned Clockwork Angels Live tour DVD would be releasing this coming May 21st via Concord Records. To many - including myself - this release date seemed a bit early given that the Clockwork Angels tour would not be finishing up until later this Summer at the earliest. It turns out that our skepticism was warranted as MusicTap posted the following message to their website late yesterday (thanks Ryan):
If you're a Rush fan and were all excited about the date I laid out for you for the upcoming Clockwork Angels DVD, then I owe you an apology. It would appear that the DVD (untitled as of this point), is NOT scheduled for May 21.

One of the dangers in running a site like this is a bad date feed. Release dates may find their way into your mailbox, often by trusted resources. Usually you can run with them. For example, the 2112 Deluxe reissue announcement, which proved to be true. I received the info about the DVD from the same source, however, today, from a more trusted source, I was told that the DVD does not have a release date in place. I was told that it would be made available, likely in the Fall of this year, corresponding to a train of logical thought that played out in many Rush forums, rightly so as it turns out.

So, once again, apologies to Rush fans all over who marked their calendars in anticipation of a new concert DVD. I promise to deliver the correct date as SOON as it is made available to me.
So it now looks like the DVD will release sometime in the Fall as we had originally anticipated. Rush filmed both the Phoenix and Dallas shows this past November for the planned DVD release. Reports at the time indicated that the Dallas show would be the primary source for the film with the Phoenix footage used mainly as a backup. Last month Rush confirmed that they planned to extend the North American Clockwork Angels tour into 2013 via this message that was posted to Rush.com:
... Clockwork Angels 2013 in Europe is on sale now. And just because we had such a good time, we are now making plans for more dates in the spring and summer of 2013 in North America - so stay tuned for more announcements. Looking forward to seeing you out on the road again soon!
The mentioned official tour announcement should be coming later this week or early next week from what I've been able to gather. For all the latest tour rumor details check out this post.
Related Posts:
[Rush Clockwork Angels Live tour DVD to release in May]
[Rush 2013 Clockwork Angels tour rumor update]
[Rush 2013 Clockwork Angels tour announcement coming soon?]
[Rush Clockwork Angels tour official attendance and sales figures]
[Rush confirm plans for 2013 North American Clockwork Angels tour]
[Robe Lighting website feature on Rush's Clockwork Angels tour; confirms 2013 North American tour?]
[Rush to film Phoenix and Dallas shows for live DVD release]
[Interview with Clockwork Angels String Ensemble violinist and concert master Joel Derouin]
[Getting to know the Clockwork Angels String Ensemble]
[Rush Clockwork Angels tour setlist update]
[Clockwork Angels tour opening night in Manchester open thread]
[Follow the Clockwork Angels tour on Twitter]
[Rush's Clockwork Angels tour to include a string section]
[Official Rush 2012 Clockwork Angels tour announcement and dates!]