UPDATE - 1/10@2:00PM: I've just heard that the Chicago show will take place on June 28th at the First Midwest Bank Amphitheatre in Tinley Park, and that the Atlantic City show will be on May 11th.
UPDATE - 1/9@10:25AM: I'm also hearing now that Rush will be making an appearance at the Trump Taj Mahal Arena (Mark Etess Arena) in Atlantic City on the Spring leg. It now also looks like there won't be an official announcement until the early part of the week after next.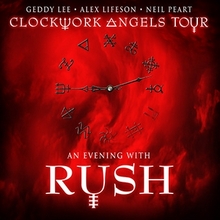 Last month Rush confirmed that they planned to extend the North American tour into 2013 via this message that was posted to Rush.com:
... Clockwork Angels 2013 in Europe is on sale now. And just because we had such a good time, we are now making plans for more dates in the spring and summer of 2013 in North America - so stay tuned for more announcements. Looking forward to seeing you out on the road again soon!
Since then we've been patiently waiting for the official tour date announcement, and now that the Holidays are over that announcement should be just around the corner. As a matter of fact, over the weekend NJ classic rock station 105.5 WDHA announced on the air that there will be a Rush show at Radio City Music Hall later this year in addition to other NYC-area shows (thanks jeffb2112) but didn't give any specific dates. And reader Kristy reports that Chicago's WLUP recently made a similar on-air announcement regarding an upcoming Chicago Rush show this year. I've also heard from a reliable source that Rush will be making a return to the Milwaukee Summerfest for a show as well - likely right around the 4th of July (thanks dinorush). Judging by how events have played out around past Rush tour announcements, once the radio stations start chattering about the upcoming shows, that usually means that an official announcement will be coming within the next week or two. Also, with the tour likely starting in mid-April given that the European leg begins in late May, they pretty much have to make an announcement within the next few weeks. For reference, the 2008 leg of the Snakes & Arrows tour also began in mid-April with the official announcement on Friday, January 18 of that year. If they hold to a similar schedule we'll get the announcement either this weekend or next, so stay tuned!
Related Posts:
[Rush Clockwork Angels tour official attendance and sales figures]
[Rush confirm plans for 2013 North American Clockwork Angels tour]
[Robe Lighting website feature on Rush's Clockwork Angels tour; confirms 2013 North American tour?]
[Rush to film Phoenix and Dallas shows for live DVD release]
[Clockwork Angels VIP package merchandise finally shipping]
[Interview with Clockwork Angels String Ensemble violinist and concert master Joel Derouin]
[Getting to know the Clockwork Angels String Ensemble]
[Rush Clockwork Angels tour setlist update]
[Rush Clockwork Angels tourbook now available online]
[Clockwork Angels tour opening night in Manchester open thread]
[Clockwork Angels tourbook and other merchandise now available at the Rush Backstage Club]
[New Rush Backstage Club contest: Win a Rush meet & greet!]
[Follow the Clockwork Angels tour on Twitter]
[Rush's Clockwork Angels tour to include a string section]
[Official Rush 2012 Clockwork Angels tour announcement and dates!]