UPDATE - 1/16@11:02AM: MusicTap has since reported that the DVD will NOT release in May, but instead will likely release in the Fall as originally anticipated (thanks Ryan):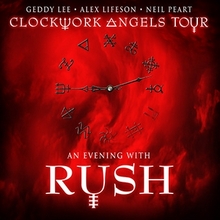 MusicTAP is reporting that Rush's planned Clockwork Angels Live tour DVD will release this coming May 21st via Concord Records - much sooner than originally anticipated (thanks rtrushfan):
Another DVD planned for release is Clockwork Angels Live featuring Rush, planned for May 21 via Concord Records.
The report doesn't give any further details. Rush filmed both the Phoenix and Dallas shows this past November for the planned DVD release. Reports at the time indicated that the Dallas show would be the primary source for the film with the Phoenix footage used mainly as a backup. We hadn't really expected the release until the Fall, so this is welcome news. Last month Rush confirmed that they planned to extend the North American Clockwork Angels tour into 2013 via this message that was posted to Rush.com:
... Clockwork Angels 2013 in Europe is on sale now. And just because we had such a good time, we are now making plans for more dates in the spring and summer of 2013 in North America - so stay tuned for more announcements. Looking forward to seeing you out on the road again soon!
The mentioned official tour announcement should be coming later next week or early the following week from what I've been able to gather. For all the latest tour rumor details check out this post.
Related Posts:
[Rush 2013 Clockwork Angels tour rumor update]
[Rush 2013 Clockwork Angels tour announcement coming soon?]
[Rush Clockwork Angels tour official attendance and sales figures]
[Rush confirm plans for 2013 North American Clockwork Angels tour]
[Robe Lighting website feature on Rush's Clockwork Angels tour; confirms 2013 North American tour?]
[Rush to film Phoenix and Dallas shows for live DVD release]
[Clockwork Angels VIP package merchandise finally shipping]
[Interview with Clockwork Angels String Ensemble violinist and concert master Joel Derouin]
[Getting to know the Clockwork Angels String Ensemble]
[Rush Clockwork Angels tour setlist update]
[Rush Clockwork Angels tourbook now available online]
[Clockwork Angels tour opening night in Manchester open thread]
[Clockwork Angels tourbook and other merchandise now available at the Rush Backstage Club]
[New Rush Backstage Club contest: Win a Rush meet & greet!]
[Follow the Clockwork Angels tour on Twitter]
[Rush's Clockwork Angels tour to include a string section]
[Official Rush 2012 Clockwork Angels tour announcement and dates!]