UPDATE - 5/4@12:27PM: Although it's not officially listed anywhere yet, it looks like the Cleveland show will be going on sale next week. Reader Dean S contacted the venue and was told that general tickets sales will begin on Saturday, May 12th.
UPDATE - 5/4@12:01PM: General ticket sales for Bristow, Pittsburgh, St. Louis, Minneapolis, and Bridgeport are now underway - Dallas gets underway in 1 hour. VIP pre-sales for San Jose and San Antonio are now also sold out.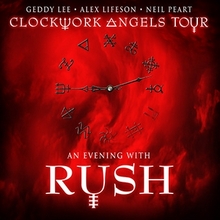 The second round of pre-sales for Rush's 2012 Clockwork Angels tour are beginning to wind down, with general ticket sales kicking off tomorrow. This second round included 12 dates: Bristow, Pittsburgh, St. Louis, Minneapolis, Bridgeport, Atlanta, San Jose, Las Vegas, Phoenix, Dallas, San Antonio and Houston. Music Today fan pre-sales for all 12 of these dates closed yesterday at 5PM. As of this post VIP pre-sales for Bristow, St. Louis, Las Vegas, Dallas and Houston have sold out, but are still open for the other 7 dates (VIP packages for Detroit, Boston and Brooklyn from the first round are also still available). Various Live Nation, radio and venue pre-sales are still ongoing for most of the dates through this afternoon, with the Live Nation ones using a password of drumline. For more information including passwords (where available), just check out the tour page, and for more details on how all the pre-sales work check out my ticket sales and pre-sales guide. General ticket sales for Bristow, Pittsburgh, St. Louis, Minneapolis, Bridgeport, San Jose, Las Vegas, and Dallas begin tomorrow at 10AM (local venue time) with San Antonio and Houston going on sale Saturday at 10AM, and Atlanta and Phoenix on Monday at 10AM.
Looking ahead to next week, we should have pre-sales for at least
Indianapolis, Charlotte, Columbus, Tampa and Seattle. Not all of these are currently listed at Ticketmaster as going on sale next week, but the Citi Private Pass site is listing them all as going on CITI pre-sale next Tuesday, May 8th - which means all the other pre-sales will also occur the same week. And although they haven't been officially announced yet, we can be fairly confident that both the Music Today and VIP pre-sales for these dates will kick-off next Monday at 12PM. Quicken Loans Arena in Cleveland does not use Ticketmaster or Citi Private Pass so it's still not clear when tickets for that show will go on sale, but it's very possible it'll also be next week. And there are still no details regarding any of the 5 Canadian dates, although I suspect that they will also be going on sale next week. I'll be updating the tour page with all of this information as the official word rolls in. Please note that delivery of the Rush.com newsletter seems to be having some issues as I've received several reports of folks receiving the newsletter late or not at all. So don't be completely reliant on the newsletter; be sure to check the various ticketing sites regularly, and I'll have info posted here as well as soon as it comes in. Also note that Showlist DC is running a contest where you could win a pair of tickets to Rush's September 9th show in Bristow. The contest runs through 5PM this afternoon and you can enter at this link.
Related Posts:
[Rush 2012 Clockwork Angels tour: second round of pre-sales begins tomorrow at 12PM]
[Rush 2012 Clockwork Angels tour updates]
[Rush 2012 Clockwork Angels tour official pre-sale details]
[Official Rush 2012 Clockwork Angels tour announcement and dates!]