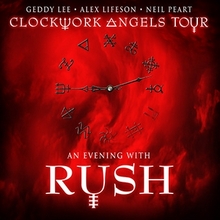 Rush.com sent out a newsletter last night with some more details on the pre-sales for the 3 recently-added European dates. Fan and VIP pre-sales for Helsinki began this morning and are currently underway. Note that the newsletter contains an incorrect link for the VIP pre-sale for Helsinki - the link should be http://www.ticketweb.co.uk/user/?region=finland&query=detail&event=511144. The fan pre-sale for Amsterdam will begin on July 1st with the general on-sale on July 2nd. More details will be released closer to the on-sale date, and the same goes for the Sweden Rock Festival. Tickets for the 2nd Toronto show on October 16th went on sale a few minutes ago at 10AM, and VIP pre-sales for that show are now sold out. Now that tickets are on sale for all of the US/Canada dates (so far), I thought it was time for a new poll. How have you or how will you get your tickets for the US/Canada leg? Take the poll and let us know. Eddie Trunk and Q104.3FM in New York will be hosting a pre/post-show party for the Brooklyn show on October 22nd with Rush tribute band Snakes & Arrows. For details/tickets visit littlefieldnyc.com (thanks ReGorLaTroy). Several band interviews have been released over the past week and the subject of the tour has come up in all of them. Alex had the following to say regarding the set list in his recent Metal Express Radio interview:
We've been throwing about set lists for the last couple of weeks and the length of the set is creeping up to over 4 hours so we'll have to reign it in and fine tune it. There'll be a good portion of new material and some older stuff that we'll be revisiting that you haven't heard in a long time. There's also a couple that we haven't played live before that we`re thinking about doing. There's quite a few in contention for the final set list. ... [2112] will be in there, in the big hat but we`re concentrating on our new tour right now and that's all we can really think of directly if I can put it like that.
Geddy was asked about the stage show for the upcoming tour in his Spin magazine interview:
... we're gonna expand upon the whole steampunk element that we brought on the "Time Machine Tour." We're gonna have fun with that whole kinda machinery and we're designing rear-screen things and have a fun little movies. Hopefully it can all tie together in some ludicrous way.
And Geddy also had the following to say about the set list in his recent Prog magazine interview:
We're just putting the set-list together right now so I can't really comment on it. We'll have a lot of variety though, and we'll be changing things around a bit. Obviously there's some stalwart songs that you can't drop without fans killing you. But we're trying to mix it up and make it interesting.
Related Posts:
[Rush Clockwork Angels tour: 3 new European dates added]
[Rush 2012/2013 Clockwork Angels tour updates]
[Rush Clockwork Angels tour UK/Europe pre-sale info; 2nd Toronto show added]
[Rush Clockwork Angels tour official UK/Europe dates announced]
[Rush 2012 Clockwork Angels tour updates: pre-sale update, UK/European tour, DVD/BD news]
[Rush 2012 Clockwork Angels tour: third round of pre-sales begins today at 12PM]
[Rush 2012 Clockwork Angels tour updates]
[Rush 2012 Clockwork Angels tour: second round of pre-sales begins tomorrow at 12PM]
[Rush 2012 Clockwork Angels tour updates]
[Rush 2012 Clockwork Angels tour official pre-sale details]
[Official Rush 2012 Clockwork Angels tour announcement and dates!]