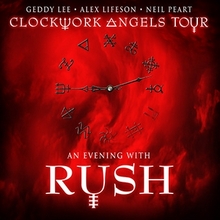 The third and final round of pre-sales for Rush's 2012 Clockwork Angels tour are beginning to wind down, with general ticket sales kicking off tomorrow. This third round included 11 dates: Indianapolis, Columbus, Winnipeg, Saskatoon, Edmonton, Toronto, Montreal, Cleveland, Charlotte, Tampa and Seattle. As of this post VIP ticket packages still remain for Pittsburgh, Indianapolis, Detroit, Columbus, Minneapolis, Winnipeg, Saskatoon, Edmonton, Montreal, Boston, Cleveland, Charlotte, Atlanta and Phoenix. Various CITI, Live Nation, radio and venue pre-sales have ended for the US dates, as have the AMEX pre-sales for the Canadian dates. Live Nation, radio and venue pre-sales for most of the Canadian dates will run tomorrow from 10AM to 10PM. For more information including passwords (where available), just check out the tour page, and for more details on how all the pre-sales work check out my ticket sales and pre-sales guide. General ticket sales for Indianapolis, Columbus and Tampa begin tomorrow at 10AM (local venue time) with all 5 Canadian dates, Cleveland and Charlotte going on sale Saturday at 10AM, and Seattle on Monday at 10AM.
Geddy Lee was interviewed this morning by Darren Redick of the UK's Planet Rock radio and had a little news to report regarding the tour. When asked about the possibility of a UK/European tour Geddy said:
Yes, we are coming over. I guess I'm probably not supposed to announce it yet. But we're working on the details now. I hope to be here in the Spring of 2013.
Darren also asked Geddy how they'd be changing up the stage show and visuals given that much of the steampunk theme of the Time Machine tour will likely carry over to the Clockwork Angels tour:
We're kind of redesigning a few aspects of the set. It will be a different show but it'll still have the same kind of steampunk aesthetic vibe. ... with new videos
And when asked about whether they'd be recording a live DVD for this tour Geddy remarks:
We haven't discussed it yet but I imagine so. It's become kind of a regular thing for us. When we put a new tour together, because of the fact that they are all so different from each other visually, it's nice to have that historical record. So - yes - we probably will film it at some point.
Related Posts:
[Rush 2012 Clockwork Angels tour: third round of pre-sales begins today at 12PM]
[Rush 2012 Clockwork Angels tour updates]
[Rush 2012 Clockwork Angels tour: second round of pre-sales begins tomorrow at 12PM]
[Rush 2012 Clockwork Angels tour updates]
[Rush 2012 Clockwork Angels tour official pre-sale details]
[Official Rush 2012 Clockwork Angels tour announcement and dates!]