UPDATE - 5/14@1:38PM: There's also an O2 Priority pre-sale for all the UK dates starting on Wednesday at 9AM (thanks Melissa).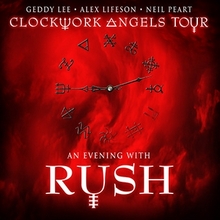 UPDATE - 5/14@11:32AM: Until I hear otherwise, I'm going with the assumption that the Planet Rock VIP and Live Nation VIP pre-sales are separate.
UPDATE - 5/14@11:12AM: Hold the phone... it's possible that the Planet Rock VIP pre-sale and the Live Nation one are totally separate. Still gathering details - everything is confusing as hell as usual...
UPDATE - 5/14@10:59AM: The VIP pre-sale will be sponsored by Planet Rock and to participate you need to register for free at this link.
UPDATE - 5/14@10:37AM: I've added the UK dates into the tour section. Despite the fact that these shows are over 1 year away, tickets go on sale this weekend! I'm still gathering all the details, but it looks general ticket sales for the UK dates will be this Friday, May 18 at 9AM. It also looks like there will be VIP tickets available through Live Nation UK this coming Thursday, May 17th at 10AM.
This past week Geddy Lee revealed in his Planet Rock interview that Rush would indeed be taking the Clockwork Angels to the UK and Europe at some point in 2013. In confirmation of this early this morning Rush.com posted some official dates including 5 in the UK in late May and 2 in Germany in early June with the promise of more dates to come. Here they are:
May 22: Manchester, England - Arena
May 24: London, England - O2 Arena
May 26: Birmingham, England - LG Arena
May 28: Sheffield, England - Motorpoint Arena
May 30: Glasgow, Scotland - SECC
June 4: Cologne, Germany - Arena
June 6: Berlin, Germany - O2 Arena
Related Posts:
[Rush 2012 Clockwork Angels tour updates: pre-sale update, UK/European tour, DVD/BD news]
[Rush 2012 Clockwork Angels tour: third round of pre-sales begins today at 12PM]
[Rush 2012 Clockwork Angels tour updates]
[Rush 2012 Clockwork Angels tour: second round of pre-sales begins tomorrow at 12PM]
[Rush 2012 Clockwork Angels tour updates]
[Rush 2012 Clockwork Angels tour official pre-sale details]
[Official Rush 2012 Clockwork Angels tour announcement and dates!]