UPDATE - 4/27@9:49AM: General ticket sales for Manchester, Philadelphia, Newark, Brooklyn and Boston begin at 10AM EST - Anaheim and LA begin at 10AM PST. Add Anaheim to the list of sold out VIP pre-sales; ticket packages still remain for Detroit, Brooklyn and Boston.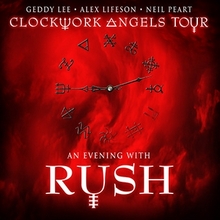 The first round of pre-sales for Rush's 2012 Clockwork Angels tour are beginning to wind down, with general ticket sales kicking off tomorrow and Saturday. The first round included 10 dates: Manchester, Philadelphia, Newark, Brooklyn, Boston, Buffalo, Detroit, Chicago, Anaheim and LA. Music Today fan pre-sales for all 10 of these dates closed yesterday at 5PM. As of this post VIP pre-sales for Detroit, Brooklyn, Boston and Anaheim are still open with the rest having sold out already. Various Live Nation, radio and venue pre-sales are still ongoing for most of the dates through this afternoon. General ticket sales for Manchester, Philadelphia, Newark, Brooklyn, Boston, Anaheim and LA begin tomorrow at 10AM (local venue time) with Chicago, Detroit, and Buffalo going on sale Saturday at 10AM. With the benefit of hindsight we now have a better picture of how the various pre-sales work this go-around. The Music Today fan pre-sales operated much as they have in the past with the one exception being that registration with the fan community on the Music Today website is no longer required. The big difference this year was with the VIP pre-sales, which are now conducted by VIPNation.com rather than Ticketmaster. With VIP Nation, you still get a guaranteed seat in the first 15 rows but you don't know the exact location of your ticket until you pick them up at the venue. The CITI, Live Nation and other pre-sales work much as they have in the past and typically require a password. The Live Nation password this time around is melody. For any other passwords, just check out the tour page, and for more details on how all the pre-sales work check out my ticket sales and pre-sales guide.
Looking ahead to next week, it looks we'll have pre-sales for Bristow, Pittsburgh, St. Louis, Minneapolis, Bridgeport, San Jose, Las Vegas, Phoenix, Dallas, San Antonio and Houston. Not all of these are currently listed at Ticketmaster as going on sale next week, but the Citi Private Pass site is listing them all as going on CITI pre-sale next Tuesday, May 1st - which means all the other pre-sales will also occur next week (thanks DawgTrappedInIndy). And although they haven't been officially announced yet, we can be fairly confident that both the Music Today and VIP pre-sales for these dates will kick-off next Monday at 12PM. I'll be updating the tour page with all of this information as the official word rolls in. The Citi Private Pass site lists the remaining US dates as going on sale the week after next. I don't yet have any information regarding ticket sales for any Canadian dates, but that should be coming out in the next couple of weeks as well. I've been getting a lot of questions about the chances of Rush adding any further dates to the tour. I doubt they will add any new cities, but it's very possible they will add 2nd shows in either Toronto and/or Los Angeles since they left a 4-day gap after each of these shows. They've done exactly this in the past, so it stands to reason that they may do the same again this time. It mostly depends on how ticket sales for the first shows are doing. I also haven't heard anything regarding extending the tour into 2013, but judging by Rush's past 2 tours this seems highly likely.
Yesterday Rush updated their official mobile app with a new Clockwork Angels theme and Clockwork Angels tour information (thanks yyz6785). You can get the app for the iPhone, the iPad and for Android. They have also updated their Facebook page and added all the tour dates using the Bands in Town Facebook app.
And last but not least, the Rush Petition website was just revamped this week in preparation for the upcoming 2012 tour. The site was the brainchild of BOS Music co-founder, Rush fan and RIAB reader Skip Daly and his partner-in-crime Al Horta. The two created the site as a means for Rush fans to voice their opinion on which Rush songs they wanted to hear live. It was first launched prior to the Vapor Trails tour back in 2001 and has been re-launched prior to every tour since then. The band has admitted in interviews that they are familiar with the site and have taken it into consideration when building out their setlists. From the revamped website:
With the "Clockwork Angels" tour confirmed for this fall, here we go again. In the interest of encouraging the band to pull some choice rarities out of the vault, the song list (below) is limited to songs that Rush has not played live since the Presto tour (1990). We are also following our tradition of not including songs from the new/forthcoming studio album (we're sure the band will cover that ground just fine!). As in the past, each person gets to select FIVE songs from the list below and submit their votes, with each individual being allowed to cast one "ballot". No guarantees, of course, but with any luck the band will keep an eye on the results and take the results into some degree of consideration. (We'll certainly be letting Anthem/SRO know the site is up and running again).

Please help spread the word about this page, and let's get some votes going. Also, please follow/like us on Facebook
Related Posts:
[Rush 2012 Clockwork Angels tour official pre-sale details]
[Official Rush 2012 Clockwork Angels tour announcement and dates!]
[Rush 2012 Clockwork Angels tour dates leaked]
[Rush 2012 Clockwork Angels tour rumor update]
[Rush 2012 Clockwork Angels tour update: official announcement coming April 19th?]
[Possible cover artwork for Rush's Clockwork Angels album, tourbook revealed]