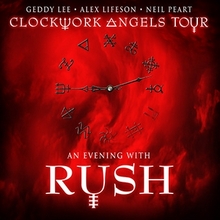 Rolling Stone has just posted a new interview they conducted with Alex Lifeson where Alex talks about the Clockwork Angels album among other subjects. Most of what's discussed has already been brought up in other interviews but Alex did have some more details regarding the upcoming tour and setlist:
.. [choosing a setlist is] always very difficult, and having come off a tour where we featured an album in its entirety, it makes the idea of featuring the whole of Clockwork Angels that much more appealing. I think for the first leg of the tour, at the very least, we'll do most of the record - not all of it, but we'll do most of it. The material that's coming up amongst the three of us in the e-mails that we're sharing is the older material. There's a lot of stuff in there that we haven't played before, and we haven't played in a long time so it's got a freshness to it this time around. We'll always have to play that handful of songs that we've had the most commercial success with, but mixing it up with some other material that we haven't played in a long time is really great. It's shaping up to be a pretty good set. ...
So Alex confirms that most of Clockwork Angels will be included in the setlist along with a good bit of older material. Alex also hints that there will be a second leg to the tour, making it sound like a 2013 leg - outside of the already scheduled European dates - may be in the cards. He goes on to clarify whether all of Clockwork Angels will be played in a later question:
... I don't think [we'll play the whole album]. Not on the first leg of the tour. But perhaps if people become more familiar with it, or if it becomes a very strong demand, then we'd consider it for the second leg of the tour. It's always good to mix it up on the tour, so we'll see. But for now, I think we're doing a major portion of it. There are only a few songs that we're leaving out at this point. ...
And on whether they thought about playing any other album in its entirety on the tour, Alex says the following:
... Yeah, we talked about that for this tour as well, but once Clockwork Angels came together, rather than taking four, five, or six songs from it and leaving room for exploring another full album ... now, we're including the 55 minutes of it. It takes up a big chunk of the set. ... 2112 kind of makes sense, I suppose. Permanent Waves, we've played every song on that record on every tour, so I don't even know if it's worth it to do that with that one. 2112 would be the logical one, I suppose. It came so long ago, though, and we're really about wanting to be pretty fresh. It was great with Moving Pictures, primarily because we got to play "Camera Eye" and that became a favorite of all of ours. Really, it was one of the high points for me because it's a challenging song to play, and it came off great live, I think. ...
Alex also talks a little about the Vapor Trails remix and the Rock and Roll Hall of Fame. You can read the entire interview at this link. Rolling Stone also posted their 3.5/5 review of Clockwork Angels today:
It's got a dystopian sci-fi plot and lyrics like "All I know is that sometimes the truth is contrary." But the first Rush album in five years isn't just one of the band's Rushiest; it's also very good - frenetic and heavy, low on prog thought puzzles, high on power-trio interplay that could put guys half their age in the burn ward. Nickelback-like meathead modern-rock production actually adds power to these ancient masters' gnomic turgidity: Even the seven-minute tripartite title track burns rubber, and Neil Peart's dragon-tailed paradiddles and Alex Lifeson's helix solos make the koanic hokum of Peart's lyrics feel like a sermon from the peak of Mount Nerd.
Related Posts:
[Rush 2012/2013 Clockwork Angels tour updates; Helsinki pre-sales, Toronto on-sale, band interviews]
[Rush Clockwork Angels tour: 3 new European dates added]
[Rush 2012/2013 Clockwork Angels tour updates]
[Rush Clockwork Angels tour UK/Europe pre-sale info; 2nd Toronto show added]
[Rush Clockwork Angels tour official UK/Europe dates announced]
[Rush 2012 Clockwork Angels tour updates: pre-sale update, UK/European tour, DVD/BD news]
[Rush 2012 Clockwork Angels tour: third round of pre-sales begins today at 12PM]
[Rush 2012 Clockwork Angels tour updates]
[Rush 2012 Clockwork Angels tour: second round of pre-sales begins tomorrow at 12PM]
[Rush 2012 Clockwork Angels tour updates]
[Rush 2012 Clockwork Angels tour official pre-sale details]
[Official Rush 2012 Clockwork Angels tour announcement and dates!]