UPDATE - 4/18@8:53PM: Note that the digital release will occur as early as April 20th in parts of Europe along with an April 22nd UK release.
UPDATE - 4/18@9:51AM: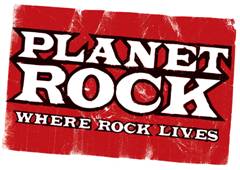 An official press release was released early this morning by Planet Rock announcing their world exclusive first play of Headlong Flight tomorrow:
Planet Rock - World Exclusive
Rush first play 'Headlong Flight'
Darren Redick - 2:12pm Thursday 19th April

Planet Rock will have a World Exclusive of Rush's new single 'Headlong Flight' during Darren Redick's show, Thursday 19th at 2:12pm (UK time).

The song, 'Headlong Flight', is the first single to be lifted from the band's forthcoming twentieth studio album, 'Clockwork Angels'.

Released on 9th July through Roadrunner Records, the album is their first in five years and sees them reuniting with 'Snakes & Arrows' co-producer Nic Raskulinecz.

The digital version of the single will be available for download from the 22nd of April.
You can listen in online tomorrow at PlanetRock.com at 2:12PM (9:12 AM EST). Note the UK release date for the digital single is April 22nd - a couple of days earlier than in the US/Canada. Several European countries will have it available as early as this Friday, April 20th.
----- snip -----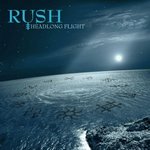 UPDATE - 4/16@8:39PM: FMQB now has a page up promoting the Headlong Flight single here. It has the single artwork along with this text:
Get ready to take the Headlong Flight!!!!
First single from Rush's new album Clockwork Angels
"Headlong Flight" available Thursday April 19
Then they have the 30-second snippet embedded on the page with Real Player, and also downloadable as an mp3 - just click on the download link.
----- snip -----
UPDATE - 4/16@11:59AM: Reader ianian65 mentions in the comments that Darren Redick from UK digital radio station Planet Rock has just announced on air that he will be playing the world's first exclusive hearing of Headlong Flight at approximately 2:12PM (9:12AM EST) on April 19th.
Last week Rush released a short, 30-second preview clip of the Headlong Flight single from the upcoming Clockwork Angels album online. We were also treated to the Clockwork Angels cover art, complete track list, and a new band publicity photo, along with an updated release date of June 12th. In addition to all that, we received confirmation that the Headlong Flight single will release to radio next Thursday, April 19th as I'd reported a couple of weeks ago. And now we have confirmation via Amazon.com that the digital release will indeed take place the following Tuesday, April 24th as I had also reported. Better yet, it looks like the full, 7:20 version of the song will be available and they also posted the cover art. The listing gives the track's original release date as April 20th - which I assume is just referencing the radio release (although it's not clear why it doesn't read April 19th). But it states that the song won't actually be available to download until Tuesday, April 24th. Thanks to Dave H for the heads up.
Related Posts:
[Rush Clockwork Angels official announcement, video trailer with Headlong Flight preview, cover art and track list!]
[Headlong Flight single from Clockwork Angels radio and digital release update]
[Possible cover artwork for Rush's Clockwork Angels album, tourbook revealed]
[Clockwork Angels update: listening party, first song title/single revealed as Headlong Flight]
[Clockwork Angels novelization by Kevin J. Anderson and Neil Peart now available for pre-order]
[First single from Clockwork Angels rumored to be released Friday, March 30th]
[Rush's Clockwork Angels to release on May 29th, now available for pre-order through Amazon]
[Rush's Clockwork Angels now listed at Amazon Japan with a release date of May 23rd]
[Clockwork Angels due out in May according to new Prog magazine Rush feature]
[Kevin J. Anderson's novelization of Rush's Clockwork Angels album due out this Fall from ECW Press]
[Author Kevin J. Anderson to write novelization of Rush's upcoming Clockwork Angels album]
[Rush wraps up Clockwork Angels recording]