UPDATE - 4/13@10:02PM: It looks like Geddy is back in Toronto. He attended tonight's Toronto Blue Jays game. Thanks july141789 for the heads up and Scott N for the screenshot.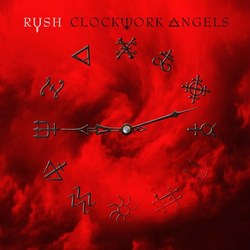 After nearly 2 years of waiting, we finally got a small taste of some new Rush music this week when a short, 30-second preview clip of the Headlong Flight single from the upcoming Clockwork Angels album was released online. The last time we heard any new Rush music was when the Caravan/BU2B single was released back on June 1st, 2010. In addition to the preview clip, we also got treated to the album's cover art, complete track list, and a new band publicity photo, along with an updated release date of June 12th. We also received confirmation from Rush.com that the Headlong Flight single will release to radio next Thursday, April 19th as I'd reported a couple of weeks ago. The digital release will reportedly take place the following Tuesday, April 24th, although this still hasn't been officially announced. Rush.com updated its website with a new Clockwork Angels-oriented theme as well, and Eric over at Power Windows has already created some cool desktop backgrounds from the artwork. They also posted a news blurb with some new details about the album's recording, and the upcoming tour:
... Work on "CLOCKWORK ANGELS" resumed in the fall of 2011 at Revolution Recording in Toronto after the [Time Machine] tour's finale, with additional strings (arranged by David Campbell) recorded at Hollywood's Ocean Way Studios earlier this year. Lyrically, "CLOCKWORK ANGELS" chronicles a young man's quest across a lavish and colorful world of steampunk and alchemy as he attempts to follow his dreams. The story features lost cities, pirates, anarchists, an exotic carnival, and a rigid Watchmaker who imposes precision on every aspect of daily life. ... Details of a full-scale North American tour to support the new album will be announced shortly.
The part about additional strings having been recorded earlier this year with David Campbell is what's really interesting. This tends to lend some weight to the rumor that they may be touring with an orchestra in some capacity. Although they don't indicate exactly when the official tour announcement will occur, I've been hearing all week that it will coincide with the April 19th radio release.

The album will be exclusively released in the UK on June 11th as a special Classic Rock fanpack edition, with the regular UK release on July 2nd. The fanpack will include the album plus a 132-page magazine with extensive and exclusive interviews with all 3 band members, along with a full track-by-track rundown by the band, an interview with producer Nick Raskulinecz, long time cover artist Hugh Syme and more. The special fanpack edition can be ordered from anywhere in the world, although shipping is higher outside of the UK. From the website:
Pre-order before 12:00pm (BST) on 8th May and you'll receive an additional special edition poster. The special edition artwork will incorporate the names of everyone who pre-orders the Fan Pack before this date. *

If you want to pre-order the fan pack but do not want your name to be included on the poster you must email contact@myfavouritemagazines.co.uk before 12pm on the 8th May to tell them that you do not want your name to be included in the Classic Rock Presents Rush: "Clockwork Angels" Fan Pack poster.

* If you order after this date you will receive the poster, but your name will not be included. Any posters bought as a gift will include the recipients name.
Here's a Prog Magazine article on the release, which includes some interesting anecdotes about the album and its recording:
... Peart became fascinated with ancient traditions, which also had an impact on the album. "I learned about an entire set of runic hieroglyphs for elements and processes," says Peart. "As the lyrical 'chapters' came together, I chose one symbol to represent each of them." You can see these symbols in the clockface on the album cover, which has been painted by Hugh Syme. Geddy Lee and Alex Lifeson worked on the music in a basement studio, with Lifeson sometimes giving Peart two demos for specific tunes. One of these would feature a drum machine to outline certain rhythmic ideas, while the other had just a click track. And on one song, The Wreckers, Lee and Lifeson swapped over instruments during the writing sessions....
As I'd mentioned above, the Clockwork Angels press release contained the complete track list for the album, but Best Buy's listing also includes the track running times:
1. Caravan(5:40)
2. BU2B(5:10)
3. Clockwork Angels(7:31)
4. The Anarchist(6:52)
5. Carnies(4:52)
6. Halo Effect(3:14)
7. Seven Cities Of Gold(6:32)
8. The Wreckers(5:01)
9. Headlong Flight(7:20)
10. BU2B2(1:28)
11. Wish Them Well(5:25)
12. The Garden(6:59)
Notice that the album version of BU2B is longer than the single version (4:21) so they either re-recorded it or at the very least re-edited it. We also learned via a tweet from Jeremy Rosen - the Director of Digital Platforms & Emerging Tech for Roadrunner Records - that the album will be available in audiophile quality 96kHz/24-bit formats. John at Cygnus-X1.net later learned that these will be made available on HDTracks.com. Moving Pictures is already available there, and all the Sectors releases are also supposed to be available at some future date. This hopefully means that the CD version will contain a 5.1 DVD as well - which makes sense given the price (currently $19.61 on Amazon). In honor of the 30-second Headlong Flight preview clip I've posted a new site poll. So what do you think of the clip? Take the poll and let us know. You can view results of past site polls at this link.
The fourth annual hard rock and heavy metal award show the Revolver Golden Gods took place Wednesday night at Club Nokia in Downtown Los Angeles, and Rush was presented with the Ronnie James Dio Lifetime Achievement Award. Neil Peart was on hand to receive the award on behalf of the band; Geddy Lee was vacationing in Japan and Alex Lifeson was back home in Toronto. The award was presented by Kyle Gass and Jack Black of Tenacious D. From UltimateClassicRock.com:
... Although known for his challenging and wordy lyrics, Peart was uncharacteristically brief and direct in his acceptance speech. He simply wanted to "express our gratitude. Our lifetimes aren't over, our achievements aren't over, so this is like 'So far, so good,' and we'll keep trying to get better. Thank you." The band filmed a brief video thanking Revolver and their fans for the award. ...
A bootleg video of Neil accepting the award is available on YouTube here. In addition to the Golden Gods Awards ceremony, Revolver and the Grammy Museum at L.A. Live debuted their new exhibit Golden Gods: The History of Heavy Metal Wednesday. Reader Paul C managed to catch a glimpse of the exhibit set-up earlier in the week and reports seeing a vintage Signals t-shirt on display.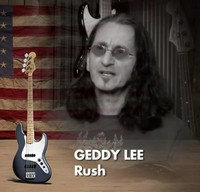 Fender recently posted a new promotional video to their YouTube page for their new 2012 American Standard series of guitars and basses. The video features a number of well-known Fender-users including Geddy Lee. At about the 1:25 mark of the video Geddy says the following:
It had this great warmth in the bottom end yet I could tweak the top end and get all the kind of ripping, searing top end that I liked to get.
You can watch the video at this link.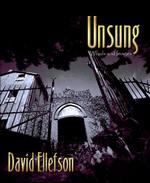 Megadeth bass player David Ellefson was recently interviewed by Metal Forces magazine to discuss his self-published book Unsung: Words & Images. The book contains some of Ellefson's unpublished lyrics and images, and he touches on Neil Peart's influence as a lyricist in one part of the interview:
... A writer in his own right, the Scottsdale, Arizona-based musician has a varied range of favourite lyricists. "I think growing up, the one lyricist to my age group that probably rocked all of our worlds was Neil Peart (drummer)," he discloses. "Rush suddenly became this band that was not only musically progressive and really spoke to our musical sensibilities, but his lyrics added a whole other dimension and also a whole other intellectual dimension to Rush's music. ...
You can purchase a copy of Unsung through Blurb.com at this link.
Eric at Power Windows recently discovered a Rush reference in Clutch's 2005 album Robot Hive Exodus. In the lyrics for the song 10001110101 - whose title is similar to the lyric from Rush's The Body Electric - there is a reference to Rush's 2112 at about the 1:45 mark:
Man alive the jive and lyrics, radioactive, don't come near it
Temple of Syrinx having the bake sale of the year.
You can listen to the track on YouTube at this link.
Reader ptaylor2112 noticed a 2112 reference in this Reuters article on a recent patent sale between AOL and Microsoft:
... If the deal falls through, Microsoft may pay AOL a termination fee of $211.2 million, AOL said in a regulatory filing.
Coincidence? Or is one of AOL's lawyers a Rush fan? :)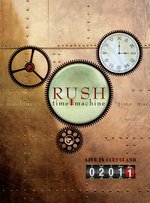 This coming Sunday, April 15th is the 1-year anniversary of Rush's show at Quicken Loans Arena in Cleveland, OH where they filmed the concert for their Time Machine DVD/Blu-ray. The video was released late last year and Blu-ray.com finally got around to posting their review for the Blu-ray earlier this week, giving it an excellent 4.5 out of 5 rating (thanks rosmakloma).
The National Post's Scene! Heard! column reported on Wednesday that:
...Rush's virtuoso guitarist, Alex Lifeson, was spotted tucking into dinner at Malena on Avenue, oh not-so-long ago. ...

The Washington DC Metro is beefing up their rush hour service with something they call RUSH plus. In this article from TBD.com (thanks JayBird) they show previews of the signs they'll be using - which read Rush Only. So it looks like it will either be a dedicated transportation service for members of Rush, or riders will only be able to listen to Rush music while riding. :)

Artist Mark Tumber recently finished drawing a photo-realistic rendering of Geddy Lee which he is selling 8x10 acid-free prints of for $35 each plus shipping ($45 total for Canadian orders, $55 for US orders). If you are interested you can contact mark through his website at marktumber.com.
Bubbles (aka Mike Smith) of the Trailer Park Boys was recently announced as a co-finalist in Metro's Race for Space contest where the winner will get a free trip into space. He mentions Rush and Cygnus-X1 in this Metro interview following the announcement:
...If he wins, he plans on making a documentary, recording the process leading up to the flight. Smith says the documentary could inspire youth to become involved in space exploration. The avid Rush fan says, if allowed, he would bring music with him into space. "It would be really cool to listen to Cygnus X1 in space." The Rush track is a psychedelic blend of rock, ambient sound effects and metal. Smith says he would also love to bring his beloved Conky, the ventriloquist puppet, with him for the trip. "Some friends and family have been telling me I'm nuts to get into a space vehicle. They have opinions about if it's a good idea to shoot yourself into space," says Smith, who's more than excited at the prospect of space travel.
Thanks to Andrew G and Jon P for the heads up.

I wanted to take a moment to apologize for any site downtime that may have occurred recently. Traffic to the site has skyrocketed in recent weeks with all of the breaking Rush news, and especially after Wednesday's release of the Headlong Flight clip the site started experiencing periodic outages. I have since upgraded my server and it now seems to be handling the increased traffic without incident. You also may have noticed that I've modified the comments to add some pagination features, which will hopefully make it easier to navigate through the comments now. I'll be making some more updates as time allows in the coming weeks/months. Thanks to everyone who has generously donated to the site in recent weeks; every bit helps and I really appreciate it. If you'd like to make a donation yourself, you can do so at this link. Any donation of 3 bucks or more will get you a free RUSH IS A BAND bumper sticker. Other ways to help out are to simply spread the word about this site to your Rush fan friends, follow RIAB on Facebook and Twitter, purchase items through my Amazon links, click on my site ads, or send me any Rush news tidbits you might come across.
And here's the Clockwork Angels video trailer with a 30-second Headlong Flight preview!
Have a great weekend everybody. Less than one week until we get to hear a new Rush song!