UPDATE - 3/10@1:05PM: Prog magazine posted an article on the new music video which included some quotes about the song from Andy Curran and Maiah Wynne (thanks RushFanForever):
"I was in my studio late one night, headphones on... a few glasses of red wine deep and thought, wouldn't it be fun to pull out my bass, blow up the tone, double it and play to a really messed up super slow drum groove," explains Curran, of Look Inside. "It's got a real stoner vibe to it. That's what happens when you mix wine and bass... Mission accomplished! ".

"Sometimes you have to shine a light on all the ugliest pieces of yourself in order to truly change, and you have to keep slaying that dragon over and over again," adds Wynne. "It is a continuous, slow and painful process. The guitars and bass really drive the grittiness and heaviness I felt when I wrote those lyrics. It feels like an all-encompassing sludge, and that is what I absolutely love about this song."
----- snip -----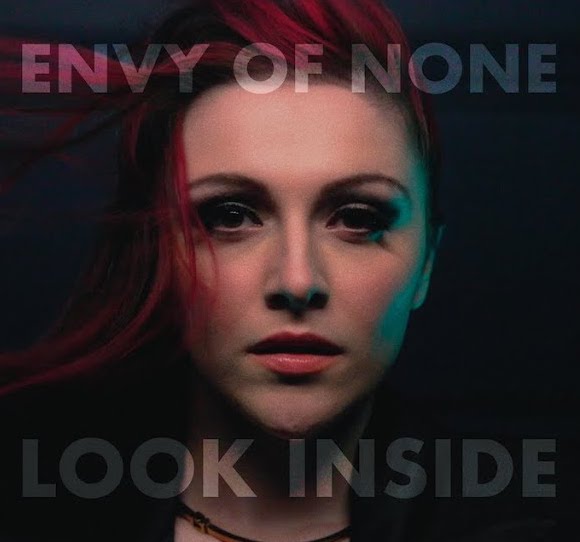 Alex Lifeson's Envy of None project has released an official music video for their recently-released single Look Inside. The song was released for streaming last week, and is the 2nd single from the band's upcoming self-titled debut album, due out next month. The video prominently features Envy of None vocalist Maiah Wynne, and is available for watching below or on YouTube at this location. You can stream Look Inside along with the album's first single - Liar - via all the major streaming platforms here. Envy of None consists of Lifeson, Andy Curran, guitarist Alfio Annibalini and vocalist Maiah Wynne. The band's self-titled 11-track debut album will arrive on April 8th from KScope Music on black, white and blue vinyl (the latter is exclusive to North America) and also on CD. A limited-edition deluxe version of the release will feature a five-track bonus CD and a 28-page booklet with exclusive content. Last month Envy of None and Epiphone announced a contest where they will be giving away an Alex Lifeson Signature Les Paul Axcess Standard electric guitar. To enter the contest, fans need to scan the QR code hidden inside the Deluxe Edition of the forthcoming album. You can get the full details regarding the contest on the KScope website here, and check out all the available purchase options, including the Deluxe Edition, here. You can also follow the Project via their website, on Facebook, Twitter and Instagram. Vocalist Maiah Wynne was recently interviewed for AL.com (thanks Will C) and spoke a bit about Envy of None and how she became involved with the project, along with her own background as a Rush fan:
... [Wynne's] dad was a Rush fan and went to see the band in concert multiple times. When she was around 13, Wynne herself got really into rock as she was teaching herself how to play drums. "That definitely was a time where I got more into Rush," Wynne says. Rush's drummer Neil Peart is universally considered one of rock's greatest all-time drummers, and often tops such tallies. Wynne's a fan of more-challenging Rush material like the mystical math-metal on 1976 album "2112." She's also into 2012′s "Clockwork Angels," the band's final studio album. But like most humans she can't resist the hooks and riffs of signature song "Tom Sawyer." "I know that's like basic," Wynne says, "but it's a great song." ...
Wynne also spoke about the possibility of Envy of None playing any live shows:
... To promote the album, Wynne says the band's considering doing a few live shows, perhaps a festival or two and possibly a performance on late-night TV. "Alex, he's toured his whole life," Wynne says, "Huge, exhausting tours, so I don't blame him for not wanting to get back out on the road necessarily. I think we're all just sort of waiting to see how people feel about (the Envy of None album), and if there's a demand for it. But yeah, there's definitely a good chance there will be at least a couple performances." ...
Related Posts:
[Listen to Look Inside, the next single from Alex Lifeson's Envy of None project]
[Enter Envy of None's contest to win an Alex Lifeson Signature Les Paul Axcess Standard guitar]
[Alex Lifeson and Maiah Wynne talk Envy of None in new PROG magazine interview]
[Listen to Liar, the first single from Alex Lifeson's Envy of None project]
[Alex Lifeson's Envy of None project with Andy Curran and Maiah Wynne to release January 12th]
[Check out in-studio photos of Alex Lifeson's Envy of None project with Andy Curran, Maiah Wynne]
[Alex Lifeson talks Envy of None, Moving Pictures reissue, and more in new Spin magazine interview]
[Alex Lifeson on his Epiphone signature guitar, Envy of None project, and more in new Andertons Music Co. interview]
[Alex Lifeson and Andy Curran Monaco Streaming Film Festival interview]
[Alex Lifeson says Envy of None album release likely coming this fall in new Grateful Web interview]
[Alex Lifeson on whether he'd consider touring with his Envy of None project in new Sirius XM interview]
[Alex Lifeson on making music with Geddy Lee, Envy of None, and others in new Ultimate Classic Rock interview]
[Alex Lifeson to appear on Sirius XM Volume's Trunk Nation with Eddie Trunk Wednesday]
[Alex Lifeson's entire Gearfest interview now online]
[Alex Lifeson has recorded 10 new songs for Envy of None project with Andy Curran, Maiah Wynne]
[Listen to 2 NEW tracks from Alex Lifeson via new AlexLifeson.com website to coincide with release of new signature guitar]