UPDATE - 8/15@3:02PM: Here's some video from Geddy's Detroit signing event
UPDATE - 7/21@1:56PM: Here's a news article with video covering Geddy's Philly signing event.
UPDATE - 7/18@1:05PM: Here's a post from Nicki's Central West End Guide chronicling Geddy's stop in St. Louis this past Monday.
UPDATE - 7/17@12:07PM: This article from the Oakland Press that previewed yesterday's Detroit signing event includes a few interview snippets from Geddy.
UPDATE - 7/17@11:56AM: Geddy was on Boston 98.5's Toucher & Rich show this morning to preview his book signing tour stop in Boston tomorrow.
UPDATE - 7/17@10:03AM: Geddy was on the Talkin' Rock With Meltdown podcast last week to talk about the book and preview the signing tour (thanks RushFanForever):
----- snip -----
UPDATE - 7/17@9:29AM: Geddy was interviewed for the Illinois Entertainer over the weekend as a preview to today's book signing event in Chicago. The interview is mostly about the book, with the same old questions/answers we've seen in dozens of other interviews, but here's what he said about a possible solo album (thanks Dean S):
"... I do have some ideas, but I haven't put any action into them. I haven't discussed anything with Alex in quite some time. We talk all the time, but we haven't talked about work. You know, I was in a very intense job for over 40 years, and you don't just walk out of that into something else. This book has been a marvelous escape and education, and in a sense, edified me in ways I never thought it would. Eventually, I'm sure I will start making some noise downstairs.. .. I store riffs for a rainy day. Eventually, the rainy day will come, I think. We'll see if they're any damn good."
----- snip -----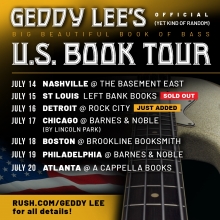 Geddy Lee kicked off his Big Beautiful Book of Bass US signing tour last night at The Basement East in Nashville, including a Q&A interview conducted by former Rush producers Peter Collins and Nick Raskulinecz, both Nashville residents. The interview is now available for viewing online below or at this location (thanks RushFanForever). Geddy continues his tour later this afternoon at Left Bank Books in St. Louis, and will then head to Detroit, Chicago, Boston and Philadelphia over the upcoming week before wrapping things up in Atlanta this coming Saturday. Fans attending the signing events over the past several months have been canvasing social media with photos, which I've been accumulating on the RIAB Twitter feed, so keep an eye out there and share your own photos as well - I'll retweet as I come across them. Geddy has been hitting the interview circuit to promote the tour, and was a guest on the Preston and Steve Show on Philadelphia's WMMR last Thursday which you can listen to online at this location, and there's also this short interview with The Tennessean previewing yesterday's event. For all the tour details and to purchase tickets, visit rush.com/geddylee.
Related Posts:
[Geddy Lee's Big Beautiful Book of Bass new US signing tour dates announced]
[Geddy Lee's Big Beautiful Book of Bass European signing tour kicks off in London this past weekend]
[Geddy Lee wraps up his Big Beautiful Book of Bass Canadian signing tour in Montreal]
[Geddy Lee's Big Beautiful Book of Bass European signing tour dates announced]
[Geddy Lee's Big Beautiful Book of Bass Canadian signing tour kicks off in Victoria]
[Geddy Lee on his Big Beautiful Book of Bass in new Toronto Sun interview]
[Geddy Lee on his Big Beautiful Book of Bass in new Times-Colonist interview]
[Geddy Lee's Big Beautiful Book of Bass Canadian signing tour dates announced]
[Geddy Lee book signing at Book Soup in West Hollywood January 30th; tickets available NOW]
[Rush Fan Day at the Rock and Roll Hall of Fame in Cleveland: open thread and live updates]
[Rush Day at the Rock Hall in Cleveland January 19th including a Geddy Lee book signing and interview event featuring Alex Lifeson]
[Geddy Lee book signing at IndigoSpirit in Toronto December 17th, tickets on sale TOMORROW morning at 10AM]
[Geddy Lee's Big Beautiful Book of Bass signing event at Bookend Books in New Jersey next month]