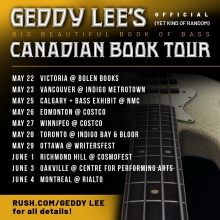 In the lead up to his upcoming Big Beautiful Book of Bass signing appearance at Bolen Books in Victoria this coming Wednesday, Geddy Lee sat down with the Times-Colonist for a new interview where he discusses the book, meeting with fans, and more:
... Book signings so far have produced a surprisingly varied turnout, including men and women both young and old, and even small children. "One wouldn't expect a book on bass guitars to bring a ton of people out of the woodwork ... but there seems to be a connection point for a lot of Rush fans. "It has been an interesting experience and a pleasant one, from my perspective, getting a couple of moments with longtime fans. And I think it has been nice for them, too. A lot of them seem very excited to get a couple of minutes to share their thoughts about my career with Rush and what it has meant to them." ...
Geddy's Victoria book signing will be the first of several such events over the next few weeks. Geddy will be visiting ten different locations all across Canada from May 22nd through June 4th. The tour will also include stops in Vancouver, Edmonton, Winnipeg, Ottawa, Toronto, Oakville, Montreal and one special stop in Calgary on Saturday, May 25th where he will open Geddy Lee's Big Beautiful Bass Exhibition at Studio Bell at The National Music Centre (NMC), highlighting a selection of his rare and iconic bass guitars - a larger collection than what was featured at the Rock and Roll Hall of Fame in Cleveland earlier this year (photo here). You can get all the details and purchase tickets for the various events here.
Related Posts:
[Geddy Lee's Big Beautiful Book of Bass Canadian signing tour dates announced]
[Geddy Lee book signing at Book Soup in West Hollywood January 30th; tickets available NOW]
[Rush Fan Day at the Rock and Roll Hall of Fame in Cleveland: open thread and live updates]
[Rush Day at the Rock Hall in Cleveland January 19th including a Geddy Lee book signing and interview event featuring Alex Lifeson]
[Geddy Lee book signing at IndigoSpirit in Toronto December 17th, tickets on sale TOMORROW morning at 10AM]
[Geddy Lee's Big Beautiful Book of Bass signing event at Bookend Books in New Jersey next month]