UPDATE - 6/13@11:31AM: Here are some Twitter photos posted by Blackwells Manchester, who hosted the event:
WHAT A NIGHT! A huge thank you to #GeddyLee for coming to Manchester and signing A LOT of books. Thanks to @PhilipWilding for hosting a fantastic Q&A. Thank you to @thedancehouse for having us. And an extra big thank you to everyone who came and made it such a great event! 🤜 🤛 pic.twitter.com/c09ayhg0Gp

- BlackwellsManchester (@BlackwellsMcr) June 10, 2019
----- snip -----
UPDATE - 6/13@9:27AM: Here's a new radio interview that Geddy did while on his book signing tour in the UK. It was for Tuesday's edition of Need To Know Bassist on BBC Radio 6 (thanks RushFanForever):
----- snip -----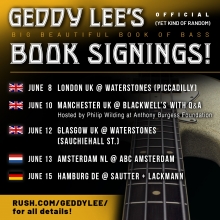 Geddy Lee kicked off his Big Beautiful Book of Bass European signing tour this past Saturday at Waterstones Piccadilly in London, UK. He then moved on to Manchester, UK for a signing and Q&A at the Dancehouse Theatre, where he was interviewed for about an hour by Philip Wilding as seen below or in this YouTube video (thanks RushFanForever). Geddy heads to Glasgow for a signing event today before moving on to mainland Europe for a signing in Amsterdam tomorrow, and finishing things off with an event in Hamburg this coming Saturday. Fans attending the events have been canvasing social media with photos, which I've been accumulating on the RIAB Twitter feed, so keep an eye out there and share your own photos as well - I'll retweet as I come across them. Geddy spoke with the UK's Classic Rock magazine last week to preview the event, and you can check out that interview here. When asked about whether he'd consider writing a book about wine, baseball or other subjects he's interested in, he had this to say:
I don't think so. I think this works because of I've spent my life with one of these instruments in my hands. So I come to it with a serious level of experience and also a track record. There are a lot of people writing books about wine and a lot of people that are writing about baseball, people that have more of a pedigree than I do in those areas. I'm more of a fanboy of the other things I collect. ... I have a film I've been trying to get made for quite a while. It's a film about baseball set in Italy. It's an independent film we've been working on for a number of years, and we've had a few problems getting it off the ground. But I'm not giving up on that!
Today's Glasgow event is sold out, but you can get details on the Amsterdam and Hamburg events and purchase tickets for those at rush.com/geddylee.
Related Posts:
[Geddy Lee wraps up his Big Beautiful Book of Bass Canadian signing tour in Montreal]
[Geddy Lee's Big Beautiful Book of Bass European signing tour dates announced]
[Geddy Lee's Big Beautiful Book of Bass Canadian signing tour kicks off in Victoria]
[Geddy Lee on his Big Beautiful Book of Bass in new Toronto Sun interview]
[Geddy Lee on his Big Beautiful Book of Bass in new Times-Colonist interview]
[Geddy Lee's Big Beautiful Book of Bass Canadian signing tour dates announced]
[Geddy Lee book signing at Book Soup in West Hollywood January 30th; tickets available NOW]
[Rush Fan Day at the Rock and Roll Hall of Fame in Cleveland: open thread and live updates]
[Rush Day at the Rock Hall in Cleveland January 19th including a Geddy Lee book signing and interview event featuring Alex Lifeson]
[Geddy Lee book signing at IndigoSpirit in Toronto December 17th, tickets on sale TOMORROW morning at 10AM]
[Geddy Lee's Big Beautiful Book of Bass signing event at Bookend Books in New Jersey next month]