UPDATE - 6/3@2:53PM: Here's a print article with a portion of Geddy's interview with Allan Neal from this past Wednesday's signing event at the Ottawa International Writers Festival.
UPDATE - 5/31@2:03PM: Here's the audio of Geddy Lee's interview with Allan Neal from this past Wednesday's signing event at the Ottawa International Writers Festival (thanks Ralph Y) as posted to the CBC's Ottawa All in a Day radio show website:
----- snip -----
UPDATE - 5/28@10:22AM: Geddy's book signing tour stopped in Winnipeg yesterday and took some time out to speak with CTV's Renee Rodgers about the book:
----- snip -----
UPDATE - 5/25@9:56AM: Geddy Lee previews his Big Beautiful Bass Exhibition at Studio Bell in Calgary in this new video from the Calgary Herald. Geddy will officially unveil the exhibit later today at a signing event that will also include a Q&A session conducted by writer and broadcaster Daniel Richler.
Geddy also spoke to Rob Brown on CBC Radio's The Homestretch for a new interview about what fans can expect for today's event (thanks RushFanForever).
----- snip -----
UPDATE - 5/24@8:46AM: Geddy was interviewed via phone yesterday for Calgary's CJAY92 to preview tomorrow's book signing and Q&A at Studio Bell:
----- snip -----
UPDATE - 5/24@8:40AM: Here's some more coverage of Wednesday night's event in Victoria from the Times-Colonist (thanks RushFanForever).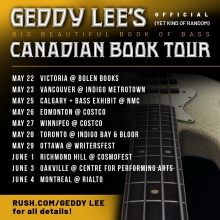 Geddy Lee kicked off his Big Beautiful Book of Bass Canadian signing tour last night at Bolen Books in Victoria,BC. CTV News was on hand and posted a short video news segment including some footage of fans and a short interview with Geddy which you can watch below or at this location. Geddy continues the tour this evening at Indigo Metrotown in Vancouver, and Saturday he'll head to Calgary for an event where he will open Geddy Lee's Big Beautiful Bass Exhibition at Studio Bell at The National Music Centre (NMC), highlighting a selection of his rare and iconic bass guitars - a larger collection than what was featured at the Rock and Roll Hall of Fame in Cleveland earlier this year (photo here). From there he'll make his way east across Canada for events in Edmonton, Winnipeg, Ottawa, Toronto, Richmond Hill, Oakville and Montreal, and you can get all the details and purchase tickets for the various events here. To promote the signing tour, Geddy has been hitting the interview circuit, where he's conducted interviews with the Times-Colonist, the Toronto Sun, and Postmedia. He spoke to the Toronto Sun's Jane Stevenson about his future plans with regards to music and Rush:
... I try to go down at least once or twice a week to my (home) studio and get to know these instruments a bit more and put some ideas down, but I don't know what will come of them, if anything. Time will tell. They're going to keep me busy (with the book tour in other parts of the world) until next Christmas and then I'll be free as bird and probably next spring I'll start looking at some serious musical ideas ... I miss those three hours on stage with my buddies. That, especially in the last 10 years of touring, was so much fun and so gratifying. ... Alex is turning into this super session guy. He loves playing on other people's records without the responsibilities of having to write anything other than his solo. I know he's really digging that. I've been doing this project, but we talk, quite a lot. We see each other quite a lot. And we visit with Neil quite often. So we're all close but I don't think we would ever do a project - the three of us. It's certainly possible that Alex and I would do something down the road. I can't see the three of us ever really doing anything. ...
Related Posts:
[Geddy Lee on his Big Beautiful Book of Bass in new Toronto Sun interview]
[Geddy Lee on his Big Beautiful Book of Bass in new Times-Colonist interview]
[Geddy Lee's Big Beautiful Book of Bass Canadian signing tour dates announced]
[Geddy Lee book signing at Book Soup in West Hollywood January 30th; tickets available NOW]
[Rush Fan Day at the Rock and Roll Hall of Fame in Cleveland: open thread and live updates]
[Rush Day at the Rock Hall in Cleveland January 19th including a Geddy Lee book signing and interview event featuring Alex Lifeson]
[Geddy Lee book signing at IndigoSpirit in Toronto December 17th, tickets on sale TOMORROW morning at 10AM]
[Geddy Lee's Big Beautiful Book of Bass signing event at Bookend Books in New Jersey next month]