UPDATE - 5/31@8:55AM: Prog magazine briefly spoke with Geddy about the European book signing tour in this article (thanks RushFanForever):
I was a little bit unsure of the best way to go out there and promote this book and we had a lot of different ideas Ė taking the basses on tour and doing a big show, but it just didnít feel right to me. Yet, at the same time, I wanted to get out there and support independent bookstores and music stores and see if I could get out there and meet some fans. One thing lead to another and the experience, I think, for the fans and for myself, was so sweet and so gratifying, that I decided to just keep doing them every once in a while. ... We just go out there and get to meet some fans and itís really nice. They come out and get a couple of minutes with me, and we chit-chat. Itís a really nice vibe for me.
----- snip -----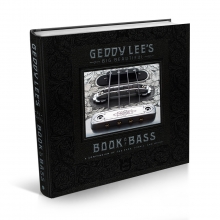 Rush and Geddy Lee have just announced several European book signing events for Geddy's Big Beautiful Book of Bass. Geddy will be signing copies of his new book in London, Manchester and Glasgow in the UK, along with an event in Amsterdam and another in Hamburg from June 8-15, including a Q&A session hosted by Philip Wilding at the Manchester event. You can get all the details and purchase tickets for the various events here:
Saturday, June 8th: London, UK at Waterstones Piccadilly, 4PM - tickets

Monday, June 10: Manchester, UK at Blackwell's at International Anthony Burgess Foundation (Q&A hosted by Philip Wilding), 7PM - tickets

Wednesday, June 12: Glasgow, UK at Waterstones Glasgow Sauchiehall Street, 5:30PM - tickets

Thursday June 13: Amsterdam, NL at ABC Amsterdam, 6PM - tickets

Saturday June 15: Hamburg, DE at Sautter and Lackmann, 4PM - tickets
Geddy is currently on a Canadian signing tour which kicked off last week in Victoria, BC. Tonight he'll be at Writersfest in Ottawa before heading off to Richmond Hill on Saturday and wrapping things up in Oakville and Montreal next week. For complete coverage of Geddy's Canadian signing tour, including interviews, check out this post.
Related Posts:
[Geddy Lee's Big Beautiful Book of Bass Canadian signing tour kicks off in Victoria]
[Geddy Lee on his Big Beautiful Book of Bass in new Toronto Sun interview]
[Geddy Lee on his Big Beautiful Book of Bass in new Times-Colonist interview]
[Geddy Lee's Big Beautiful Book of Bass Canadian signing tour dates announced]
[Geddy Lee book signing at Book Soup in West Hollywood January 30th; tickets available NOW]
[Rush Fan Day at the Rock and Roll Hall of Fame in Cleveland: open thread and live updates]
[Rush Day at the Rock Hall in Cleveland January 19th including a Geddy Lee book signing and interview event featuring Alex Lifeson]
[Geddy Lee book signing at IndigoSpirit in Toronto December 17th, tickets on sale TOMORROW morning at 10AM]
[Geddy Lee's Big Beautiful Book of Bass signing event at Bookend Books in New Jersey next month]