UPDATE - 7/12@11:41AM: Due to high demand, Rush has added a Detroit date to Geddy's upcoming US signing tour. Geddy will be at the Rock City Music Company this coming Tuesday, July 16th with tickets available online at this location. Also, the St. Louis date is now SOLD OUT.
UPDATE - 7/12@9:14AM: Geddy is hitting the radio interview circuit to promote the tour, and was a guest on the Preston and Steve Show on Philadelphia's WMMR yesterday, which you can listen to below or online at this location:
----- snip -----
UPDATE - 7/11@5:38PM: The Tennessean posted a new interview with Geddy previewing Sunday's event.
UPDATE - 7/10@11:37AM: Geddy has chimed in via Instagram regarding his upcoming stop in Nashville where he'll be doing a Q&A with former Rush producers Nick Raskulinecz and Peter Collins:
----- snip -----
UPDATE - 7/9@9:12AM: Tickets are now on sale for the general public at rush.com/geddylee.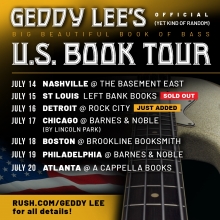 Rush and Geddy Lee have just announced via the Rush newsletter a number of new US book signing events for Geddy's Big Beautiful Book of Bass, and they've given fans first crack at the tickets before they go on sale tomorrow at 9AM EST. From the newsletter:
Hot off the Euro book tour, we are now excited to announce more US cities Geddy will be appearing in and he is looking forward to seeing you all!

As an exclusive offering to RUSH Newsletter Members, we are giving you first dibs on access to Geddy Lee's Big Beautiful Book of Bass US Tour.

Get your event tickets now before they go on-sale to the public at 9amET on July 9th.

Full list of dates below:

Sunday, July 14 - NASHVILLE
The Basement East
Q&A hosted by Rush producers Peter Collins & Nick Raskulinecz
Doors 6:00 PM
Address: 917 Woodland St, Nashville, TN 37206
BUY TICKETS

Monday July 15 - ST LOUIS
Left Bank Books
Doors: 5:00 PM
Address: 399 North Euclid Ave, St Louis, MO, 63108
BUY TICKETS

Wednesday July 17 - CHICAGO
Barnes & Noble (by Lincoln Park)
6:30 PM
Address: 1449 West Webster Avenue, Chicago, IL 60614
BUY TICKETS

Thursday July 18 - BOSTON
Brookline Booksmith
7:00 PM
Address: 279 Harvard St, Brookline, MA 02446
Password to buy tickets: GeddyBrookline
BUY TICKETS

Friday July 19 - PHILADELPHIA
Barnes & Noble
5:00 PM
Address: 1805 Walnut Street, Philadelphia, PA 19103
BUY TICKETS

Saturday July 20 - ATLANTA
Acappella Books
3:00 PM
Address: 208 Haralson Ave NE, Atlanta, GA 30307
BUY TICKETS
Related Posts:
[Geddy Lee's Big Beautiful Book of Bass European signing tour kicks off in London this past weekend]
[Geddy Lee wraps up his Big Beautiful Book of Bass Canadian signing tour in Montreal]
[Geddy Lee's Big Beautiful Book of Bass European signing tour dates announced]
[Geddy Lee's Big Beautiful Book of Bass Canadian signing tour kicks off in Victoria]
[Geddy Lee on his Big Beautiful Book of Bass in new Toronto Sun interview]
[Geddy Lee on his Big Beautiful Book of Bass in new Times-Colonist interview]
[Geddy Lee's Big Beautiful Book of Bass Canadian signing tour dates announced]
[Geddy Lee book signing at Book Soup in West Hollywood January 30th; tickets available NOW]
[Rush Fan Day at the Rock and Roll Hall of Fame in Cleveland: open thread and live updates]
[Rush Day at the Rock Hall in Cleveland January 19th including a Geddy Lee book signing and interview event featuring Alex Lifeson]
[Geddy Lee book signing at IndigoSpirit in Toronto December 17th, tickets on sale TOMORROW morning at 10AM]
[Geddy Lee's Big Beautiful Book of Bass signing event at Bookend Books in New Jersey next month]