UPDATE - 4/1@6:27PM: APRIL FOOLS!! As you likely all have figured out by now, today is April Fools' Day and this post is - unfortunately (fortunately?) - a joke. I need to give full credit for the idea (and the cool photoshopped image) for this year's joke to Paul at the Danforth & Pape Facebook page (be sure to check out his April Fools' joke too). It looks like I hooked a good number of readers with this one, and everyone seemed to get a kick out of it. It sounds like Rush enjoyed it too:
Good one ;) https://t.co/zf8F5HfmAF

- Rush (@rushtheband) April 1, 2018
Thanks for playing along everyone! Have a Happy Easter and April Fools' Day - be careful out there!
----- snip -----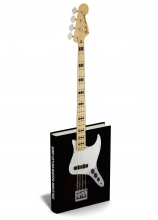 Geddy Lee's upcoming Big Beautiful Book of Bass is slated for release on November 13, 2018 and is already available for pre-order. In addition to the standard hardcover edition, the publisher revealed Friday afternoon via press release that a special, playable bass guitar edition cleverly titled Geddy Lee's Big Beautiful Bass of Book will also be made available as seen in this photo (thanks Paul T). This edition, made in partnership with Fendar, will be modeled after Fender's Signature Geddy Lee jazz bass, but with the standard body being replaced by an actual copy of Geddy's book. Geddy sat down with the publisher for an interview where he shows off a prototype of the bass of book and knocks out a couple of Rush bass lines on it (see video below). In the interview, Geddy mentions that much of the inspiration for this special edition came from one of his favorite episodes of Seinfeld (The Opposite: Season 5, Episode 22 - May 19, 1994) where Kramer develops a coffee table book about coffee tables, that also turns into a coffee table. Additional inspiration came from the Watchmaker's edition of Clockwork Angels as seen here. From the press release:
The Geddy Lee Big Beautiful Bass of Book playable bass guitar limited edition is a Fender Geddy Lee jazz bass with an actual hardcover copy of the book replacing the standard guitar body. The neck attaches to the book's sturdy cover, which is made of a black polished alder wood with extra thickness to accommodate the pickups, controls and input jacks. The cover is equipped with a metal clasp to keep the book shut while you play it, with the one-piece maple neck modeled after the Geddy Lee signature jazz bass. Each of the 500 limited edition bass guitars is numbered and signed by Geddy Lee, and includes a copy of the book's standard edition, a custom set of guitar picks, a certificate of authenticity and a pair of round lens Geddy Lee signature reading glasses. ...
Just like the standard edition, the special edition will also be released on November 13th. It will retail for $2112 and the limited run of 500 will be made available for pre-order via the Fendar website or at Amazun next week. Here's Geddy demonstrating and discussing his bass of book: