UPDATE - 11/16@1:19PM: Note that the Radio.com 6-song stream is no longer available. They instead now have on-demand versions of Red Sector A and Middletown Dreams available here.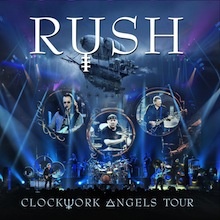 As they announced earlier this week, Radio.com is hosting an exclusive streaming video preview of Rush's upcoming Clockwork Angels Tour concert video today and tomorrow. From Radio.com:
Rush is releasing Clockwork Angels Tour on CD, mp3, DVD and BluRay on November 19, but Radio.com is giving you a six song preview. Starting at noon EST on Thursday, November 14 and lasting for 24 hours, you can watch an exclusive live stream of the "Grand Designs," "Middletown Dreams," "Territories," "The Body Electric," "Red Sector A" and "The Wreckers." After that, starting at noon EST on Friday, November 15, we'll have "Middletown Dreams" and "Red Sector A" available on-demand, plus an exclusive interview with Geddy Lee from our Radio.com studios.
You can watch the video stream of the above-mentioned 6 tracks right now below or at Radio.com. You can also listen to a complete audio preview of the entire Clockwork Angels Tour CD on Pandora Premieres at this location.
This coming Tuesday, November 19th Rush: Clockwork Angels Tour will be released simultaneously on CD, DVD and Blu-ray and is currently available for pre-order (DVD, Blu-ray, CD). The film will also be shown in theaters across North America on November 18th. Fans can find theaters and buy tickets for the theatrical release at the Fathom Events website in the US, and at Cineplex.com in Canada.
Related Posts:
[Pandora Premieres streaming the COMPLETE audio from Rush's Clockwork Angels Tour]
[Geddy Lee talks baseball, Clockwork Angels Tour film in new interview]
[Rush Clockwork Angels Tour preview from Radio.com this Thursday]
[VH1 posts Clockwork Angels Tour full 8-song audio preview and new Geddy Lee interview]
[Preview of Rush's Family Goy parody from the Clockwork Angels Tour DVD/Blu-ray]
[Rush Clockwork Angels Tour video 2112 preview clip]
[Rush Clockwork Angels Tour limited edition deluxe package]
[Rush Clockwork Angels Tour theatrical release November 18th]
[Geddy Lee talks Clockwork Angels Tour CD/DVD/Blu-ray in new VH1 interview]
[Video premiere of The Garden from Rush's Clockwork Angels Tour CD/DVD/Blu-ray]
[Rush Clockwork Angels Tour CD/DVD/Blu-ray OFFICIAL trailer released]
[Rush Clockwork Angels Tour CD now available for pre-order]
[Geddy Lee talks Clockwork Angels Tour video, Vapor Trails Remixed in new Rolling Stone interview]
[Rush Clockwork Angels Tour CD/DVD/Blu-ray to release November 19th, now available for pre-order]
[Rush Clockwork Angels concert film status update]
[Rush Clockwork Angels tour concert film trailer released]
[Rush Clockwork Angels tour concert video to release September 24th]
[Rush Clockwork Angels tour Dallas open thread]
[Rush Clockwork Angels tour Phoenix open thread]
[Rush to film Phoenix and Dallas shows for live DVD release]