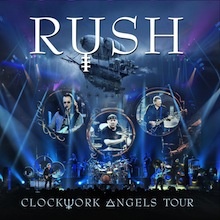 Geddy Lee recently sat down with Rolling Stone's Andy Greene for a new interview to discuss the band's upcoming Clockwork Angels Tour concert video, Vapor Trails Remixed, the band's future, and more. Here's Geddy discussing what goes into choosing which show(s) to film:
Sometimes it's a very concerted effort to choose a time and a place, as it was with Rio. We wanted to record in Brazil and we wanted that location. And when we chose Cleveland, there was a very definite reason for that because Cleveland was the first city that really embraced us. It was a full-circle thing. But this tour, we didn't make any plans originally to record it, but then after we saw that our work was paying off and we were so proud of the show, we thought, "Okay, we have to record this." We had a second leg planned in the new year, and at the time we didn't know whether we would change songs or not. The feeling was, "Life is too unpredictable. Let's not record it next year. Let's record it now because at least we know what the show is." So we quickly found a venue that was appropriate, or really a couple of venues, and that's how we did it.
Here's Geddy on the band's future plans (or lack thereof):
... our manager is talking all the time about the future and we're choosing to ignore him. There has been talk of some sort of anniversary tour that might be the next thing we do, but we definitely have not decided if or when that's going to happen. ... The plan now is to have no plans. We have had a great 10 years of tour, album, tour album. I can honestly say that the three of us enjoyed this tour more than any one we've ever done. We left on a high note, but we recognize that we need to pay attention to our families and recharge our batteries. So we decided that we're just not going to discuss anything for a little while. ...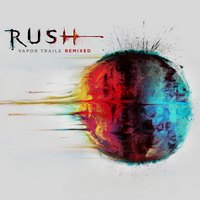 Geddy also touches on the Vapor Trails Remixed project:
... it was hard to get people onboard. "Why are you obsessing over this one record? You have 20 records. Why the fuck do you care about this one record?" I just felt it was so pivotal that the songs required some justice. We gave it one last kick of the can, and Andy from our management suggested that David Bottrill have a go at it. I thought it was kind of strange/full circle that the guy we almost used in the first place is trying to save it. We were on tour and Neil didn't want to have too much to do with it. The album has a lot of very painful memories for him. We said, "Don't worry. We're going to let David just follow his instincts and he'll do it while we're touring." David just got the record right away and started sending us mixes. Of course, we'd have comments here or there, but generally he understood what it should sound like. So, I'm very pleased with the end result. I think he's finally brought some completion and some justice to some of those songs we'd put so much of our heart and soul into.
You can read the entire interview online at this location (thanks Geddimus Prime).
Related Posts:
[Alex Lifeson discusses Vapor Trails Remixed in new Classic Rock interview]
[Rush Clockwork Angels Tour CD/DVD/Blu-ray to release November 19th, now available for pre-order]
[Rush Vapor Trails Remixed 30-second sample clips now available]
[Long-awaited Vapor Trails remix coming October 1st, now available for pre-order]
[Rush Clockwork Angels concert film status update]
[Rush Clockwork Angels tour concert film trailer released]
[Rush Clockwork Angels tour concert video to release September 24th]
[Rush Clockwork Angels tour Dallas open thread]
[Rush Clockwork Angels tour Phoenix open thread]
[Rush to film Phoenix and Dallas shows for live DVD release]