UPDATE - 11/13@11:41AM: So much for this exclusive preview. Pandora has the whole thing streaming online here. Although it sounds like Radio.com will be posting previews of the actual videos too - not just audio.
UPDATE - 11/12@1:48PM: Reader joesaracer noticed that the Barnes and Noble website listing for the CD has 30-second sample clips posted for all the tracks.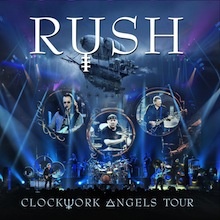 Radio.com will be hosting an exclusive streaming preview of Rush's upcoming Clockwork Angels Tour concert video this coming Thursday. From Radio.com:
... for 24 hours starting at noon EST on Thursday (Nov. 14), we'll have six performances from the DVD available exclusively to stream on Radio.com.

The sold-out arena tour in support of 2012′s Clockwork Angels, Rush's 19th studio album, saw the Canadian rockers playing material not performed since the '80s, alongside a string section in many cases. For our exclusive preview, we'll show you footage of some of those rarely performed songs as well as two performances with the "Clockwork Angels String Ensemble."

The Radio.com exclusive performances will include: "Grand Designs," "Middletown Dreams" and "Territories" from 1985′s Power Windows; "The Body Electric" and "Red Sector A" from 1984′s Grace Under Pressure; and "The Wreckers" from Clockwork Angels.

For two weeks following our exclusive stream, two of the performances - of "Red Sector A" and "Middletown Dreams" - will be available to stream on-demand. ...
Next Tuesday, November 19th Rush: Clockwork Angels Tour will be released simultaneously on CD, DVD and Blu-ray and is currently available for pre-order (DVD, Blu-ray, CD).
Related Posts:
[VH1 posts Clockwork Angels Tour full 8-song audio preview and new Geddy Lee interview]
[Preview of Rush's Family Goy parody from the Clockwork Angels Tour DVD/Blu-ray]
[Rush Clockwork Angels Tour video 2112 preview clip]
[Rush Clockwork Angels Tour limited edition deluxe package]
[Rush Clockwork Angels Tour theatrical release November 18th]
[Geddy Lee talks Clockwork Angels Tour CD/DVD/Blu-ray in new VH1 interview]
[Video premiere of The Garden from Rush's Clockwork Angels Tour CD/DVD/Blu-ray]
[Rush Clockwork Angels Tour CD/DVD/Blu-ray OFFICIAL trailer released]
[Rush Clockwork Angels Tour CD now available for pre-order]
[Geddy Lee talks Clockwork Angels Tour video, Vapor Trails Remixed in new Rolling Stone interview]
[Rush Clockwork Angels Tour CD/DVD/Blu-ray to release November 19th, now available for pre-order]
[Rush Clockwork Angels concert film status update]
[Rush Clockwork Angels tour concert film trailer released]
[Rush Clockwork Angels tour concert video to release September 24th]
[Rush Clockwork Angels tour Dallas open thread]
[Rush Clockwork Angels tour Phoenix open thread]
[Rush to film Phoenix and Dallas shows for live DVD release]