UPDATE - 9/17@10:25AM: The Clockwork Angels Tour DVD is currently the #1 seller at Amazon in the Music Videos & Concerts category (thanks John at Cygnus-X1.net).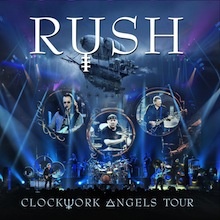 UPDATE - 9/16@2:53PM: Note that the press release does confirm that there will be a separate CD release, although there's no pre-order information for it as of right now.
Rush has just announced details regarding their upcoming Clockwork Angels Tour CD/DVD/Blu-ray which is set to release on November 19th. From Rush.com:
...On November 19th, "RUSH: CLOCKWORK ANGELS TOUR" will be released simultaneously via Anthem/Roadrunner Records on CD and the companion BLURAY/DVD on Anthem/Zoe Vision/Rounder.

"RUSH: CLOCKWORK ANGELS TOUR" was filmed and recorded last November at the American Airlines Arena in Dallas, Texas, during Rush's highly successful Clockwork Angels Tour. The eleven month-marathon world tour crossed North America twice and ventured overseas to Europe in support of the band's acclaimed 2012 studio release "CLOCKWORK ANGELS."

In capturing the tour's electrifying three hour set, "RUSH: CLOCKWORK ANGELS TOUR" pairs Rush classics ("Tom Sawyer," "The Spirit Of Radio," "2112″), with a nod to the 80′s Rush era (The Analog Kid," "Territories," "Subdivisions") alongside newly reworked arrangements specifically for the tour featuring the Clockwork Angels String Ensemble ("Headlong Flight," "YYZ," "Red Sector A"). The string section marks the first time the trio has brought additional musicians on the road with them. To showcase their latest studio release, the epic set list also features nine tracks off "CLOCKWORK ANGELS." Other highlights include tracks rarely performed and never before recorded live ("The Body Electric," "Middletown Dreams"), in addition to three separate drum solos by the incomparable Neil Peart.

Beyond the incredible live performances, the DVD includes a 25-minute tour documentary titled "Can't Stop Thinking Big", featuring interviews with all 3 members, exclusive and behind the scenes footage, and offers a glimpse into the inner workings of the Rush tour machine and insight into the band members themselves. Other special features on the DVD include the trio of hilarious shorts created specifically for the tour as well as interviews and outtakes captured during their filming. Additional filmed sketches and a rare soundcheck performance of perennial favourite "Limelight" round out the exclusive offerings. ...
The announcement also includes the cover art, the complete tracklisting and more details about the bonus content. It looks like the primary footage was taken from the November 28th show in Dallas judging by the setlist, but the 4 alternate tracks taken from the Phoenix show are also included as bonus content. The video was produced by Fadoo Productions and earlier this summer CEO Bob McCown mentioned that the video will likely premiere on HBO at some point this fall, although there's no mention of that in the announcement. You can pre-order your copy on Amazon today (DVD, Blu-ray).
Related Posts:
[Rush Clockwork Angels concert film status update]
[Rush Clockwork Angels tour concert film trailer released]
[Rush Clockwork Angels tour concert video to release September 24th]
[Rush Clockwork Angels tour Dallas open thread]
[Rush Clockwork Angels tour Phoenix open thread]
[Rush to film Phoenix and Dallas shows for live DVD release]