UPDATE - 11/8@10:00AM: Here's a 30-second trailer for the theatrical release on YouTube:
----- snip -----
UPDATE - 11/7@4:26PM: Note that Canadian fans can purchase tickets and find theaters at Cineplex.com.

UPDATE - 10/31@6:24PM: There's now an official announcement for the November 18th screening, and the event is also now featured at the Fathom Events website. Tickets will be available via the Fathom Events website this evening at 9:12 (21:12).
UPDATE - 10/19@1:15PM: Fandango actually has a number of theaters listed across the country, you just need to enter your zip code on this page.
UPDATE - 10/19@10:11AM: The film is now listed at both Fandango, and Moviefone. The Moviefone listing doesn't have any information attached to it other than the film's name, but the Fandango listing confirms the November 18th release date and has it with a running time of 2 hours and 25 minutes. Neither listing has any theaters or showtimes yet.
UPDATE - 10/19@8:54AM: Reader Mark H pointed out that the Goodrich Quality Theaters locations listed here aren't just in Michigan, but some are also in Indiana and Illinois. If you notice any other listings, please let us know.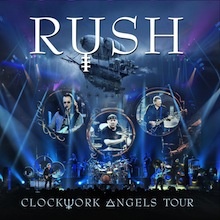 According to listings at several Michigan, Indiana and Illinois area theaters owned by Goodrich Quality Theaters, Rush's Clockwork Angels Tour concert film will be getting a theatrical release on November 18th, the day before its release on CD/DVD/Blu-ray. There's been no official announcement as of yet, but it seems that Fathom Events is distributing the film and reader Anita L received a copy of a Fathom Events newsletter announcing the screening at her local Kalamazoo, MI theater. Although these are the only theaters currently listing the film, it will likely be released around the same time at theaters nationwide, with some kind of official announcement in the coming week. Yesterday Rolling Stone posted video of Rush's performance of The Garden from the film, and you can check it out at the Rolling Stone website. On Tuesday, November 19th Rush: Clockwork Angels Tour will be released simultaneously on CD, DVD and Blu-ray and is currently available for pre-order (DVD, Blu-ray, CD). The concert was filmed/recorded on November 28th of last year in Dallas, TX and the primary footage consists of this entire concert which was one of the band's Night A setlists. As a bonus they also include 3 Night B setlist tracks (Middletown Dreams, The Pass and Manhattan Project) from the November 25th show in Phoenix along with a soundcheck recording of Limelight. The DVD/Blu-ray also includes a 25-minute tour documentary titled Can't Stop Thinking Big, the intro/intermission/outro tour videos and other exclusive bonus content. You can get all the details in the Rush.com press release and watch the official trailer for the film at this location. There's also a slightly different trailer posted over at the Fadoo Productions website.
Related Posts:
[Geddy Lee talks Clockwork Angels Tour CD/DVD/Blu-ray in new VH1 interview]
[Video premiere of The Garden from Rush's Clockwork Angels Tour CD/DVD/Blu-ray]
[Rush Clockwork Angels Tour CD/DVD/Blu-ray OFFICIAL trailer released]
[Rush Clockwork Angels Tour CD now available for pre-order]
[Geddy Lee talks Clockwork Angels Tour video, Vapor Trails Remixed in new Rolling Stone interview]
[Rush Clockwork Angels Tour CD/DVD/Blu-ray to release November 19th, now available for pre-order]
[Rush Clockwork Angels concert film status update]
[Rush Clockwork Angels tour concert film trailer released]
[Rush Clockwork Angels tour concert video to release September 24th]
[Rush Clockwork Angels tour Dallas open thread]
[Rush Clockwork Angels tour Phoenix open thread]
[Rush to film Phoenix and Dallas shows for live DVD release]