UPDATE - 6/13@7:07AM: And it's back on YouTube ... for now (thanks Natsy2112).
UPDATE - 6/11@7:18AM: The vimeo password has been changed, so clockwork no longer works.
UPDATE - 6/10@11:31AM: Reader TorpedoPenguin noticed that the vimeo link works if you use the password clockwork.
UPDATE - 6/10@8:52AM: It looks like the YouTube version of the trailer has also been removed. :(
UPDATE - 6/9@9:40AM: The status of the video at Vimeo.com has suddenly been switched to private. Perhaps Fadoo Productions jumped the gun on posting it? Not to worry, it's already been posted on YouTube too:
----- snip -----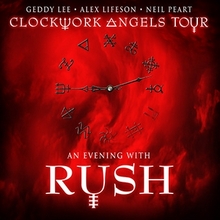 Fadoo Productions has released a 2-minute trailer for Rush's upcoming Clockwork Angels concert film which is due out this fall. Rush filmed both the Phoenix and Dallas shows last November for the planned film release. Reports at the time indicated that the Dallas show would be the primary source for the film with the Phoenix footage used mainly as a backup. There has been no official release date given yet, but several rumors indicate that it will be released this fall - likely just in time for the holidays. The trailer can be viewed below or online at this link. Thanks to kjbird and Al-Dreamline for the heads up.