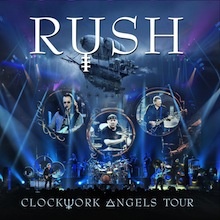 Geddy Lee was recently interviewed by VH1 to discuss Rush's upcoming Clockwork Angels Tour CD/DVD/Blu-ray. Here's what Geddy had to say when asked if he and his bandmates ever disagree about what songs to play on a particular tour:
It's always a bit of a negotiation. Most of the guys have favorites that they like to play but you know it's a bit of a trade off. Obviously I am most resistant to playing the keyboard-heavy songs because that traps me behind them but for some reason on this tour we leaned quite heavily towards that period. There are a lot of songs on the tour from the Power Windows era. Songs like "Grand Design" for example, which I think is really kind of a highlight on this tour strictly because it's a chance to play it again from a modern technology point of view. The last time we played some of those songs technology hadn't evolved to the point it has now and it's far easier to reproduce them accurately now as a result. Back then you had to keep switching instruments and you didn't have synthesizers that would stay in tune for a whole song and it was a much hairier job so it's kind of fun to revisit some of them now.
The interview includes video of Geddy answering 2 of the questions that were asked. You can read the entire interview and watch the videos below or at this location (thanks John at Cygnus-X1.net). Earlier today Rolling Stone posted video of Rush's performance of The Garden from the DVD which you can check out at this location. On Tuesday, November 19th Rush: Clockwork Angels Tour will be released simultaneously on CD, DVD and Blu-ray and is currently available for pre-order (DVD, Blu-ray, CD). The concert was filmed/recorded on November 28th of last year in Dallas, TX and the primary footage consists of this entire concert which was one of the band's Night A setlists. As a bonus they also include 3 Night B setlist tracks (Middletown Dreams, The Pass and Manhattan Project) from the November 25th show in Phoenix along with a soundcheck recording of Limelight. The DVD/Blu-ray also includes a 25-minute tour documentary titled Can't Stop Thinking Big, the intro/intermission/outro tour videos and other exclusive bonus content. You can get all the details in the Rush.com press release and watch the official trailer for the film at this location.
Related Posts:
[Video premiere of The Garden from Rush's Clockwork Angels Tour CD/DVD/Blu-ray]
[Rush Clockwork Angels Tour CD/DVD/Blu-ray OFFICIAL trailer released]
[Rush Clockwork Angels Tour CD now available for pre-order]
[Geddy Lee talks Clockwork Angels Tour video, Vapor Trails Remixed in new Rolling Stone interview]
[Rush Clockwork Angels Tour CD/DVD/Blu-ray to release November 19th, now available for pre-order]
[Rush Clockwork Angels concert film status update]
[Rush Clockwork Angels tour concert film trailer released]
[Rush Clockwork Angels tour concert video to release September 24th]
[Rush Clockwork Angels tour Dallas open thread]
[Rush Clockwork Angels tour Phoenix open thread]
[Rush to film Phoenix and Dallas shows for live DVD release]