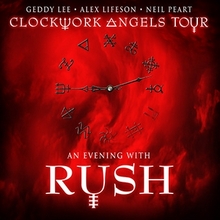 Rush finished off the first leg of the 2013 Clockwork Angels summer tour this past weekend with 2 back-to-back shows at the Halifax Metro Centre - their first visit to Nova Scotia in over 25 years. Friday night's show was sold out, and the Sunday night Bastille Day celebration show featured a guest appearance from The Trailer Park Boys. The band will pick things up again next Wednesday, July 24th for a benefit show at the Enmax Centrium in Red Deer, Alberta. The band was originally scheduled to play a show at the Calgary Saddledome on that date, but due to severe flooding damage suffered by the venue last month they were forced to cancel the show last week. In yet another classy move by the band, rather than just simply reschedule the show, they decided to perform a separate show nearby on the same date in Red Deer, Alberta with all proceeds to go to Alberta Flood Relief. Calgary ticket holders were given first dibs on tickets this past weekend in a special pre-sale, with tickets going on sale to the general public this past Monday. After the Red Deer show, the band will head out west for 5 more shows to finish off the 2013 tour - the first of which will be a June 26th concert at the Rogers Centre in Vancouver. CTV and Live Nation are running a contest to win a Rush VIP Experience package that include 2 front row tickets to this show, a meet and greet and more. Just watch CTV Morning Live on Friday, July 26th from 5:30AM to 8AM to learn how you can win. For all the details visit the CTVNews website here.
Speaking of the tour, yesterday Pollstar.com released their list of the Top 100 Worldwide and Top 100 North American tours for the first half of 2013. Rush's Clockwork Angels tour came in at #69 on both lists. On the worldwide tour chart, Pollstar reports that out of 23 shows (although Rush actually played 24, so they are likely leaving out the Sweden Rock Festival show) played through June 30th, Rush's tour grossed an average of $491,304 per show with an average of 5,534 tickets sold. On the North American tour chart, Pollstar reports that out of 14 North American shows played through June 30th, Rush's tour grossed an average of $314,286 per show with an average of 3,937 tickets sold. You can check out the complete lists at Pollstar.com. So far Billboard boxscore has only reported specific official attendance and sales figures for 6 of the 24 shows in the first half of 2013, which you can check out in the tour section.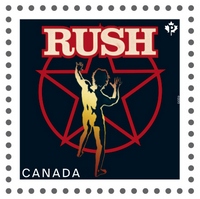 Today the Canada Post releases a Canadian Recording Artist stamp series featuring Rush and other Canadian artists. They had first announced the series back in April in this press release:
... "This year's series features Canadian bands that have shaped the music industry in Canada," says Jim Phillips, Director of Stamp Services for Canada Post. "Each band has achieved national acclaim, along with international radio air-time and extensive tours." ...
Rush's stamp features the iconic Rush Starman. Along with Rush, Beau Dommage, The Guess Who and The Tragically Hip are also honored with a stamp. In addition to the stamps themselves, Canada Post is also offering postcards and limited edition framed prints (only 750 will be made available), although it looks like the framed prints are now sold out. The Canadian Recording Artists stamp series are now available from Canada Post retail outlets and can also be purchased online via canadapost.ca.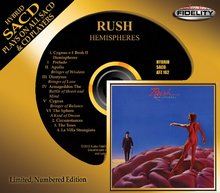 Audio Fidelity will be releasing an SACD (Super Audio CD) version of Rush's Hemispheres next month. The original release date as listed at Amazon was given as August 6th. But the most recent Audio Fidelity newsletter gives the release date as August 20th (thanks Jeff B). The listing for the SACD at the Audio Fidelity website states that the SACD will retail for $29.99 and was mastered by Kevin Gray at Cohearent Audio. You can pre-order your copy of the Hemispheres SACD at this location. Audio Fidelity released an SACD version of Counterparts earlier this year.
The Yes official website featured a fan Q&A with legendary bass player Chris Squire a couple of weeks ago and one of the questions was regarding Geddy Lee. In his answer Squire reveals that he was once a candidate to produce Rush's Grace Under Pressure album:
Have you ever met or had a chance to play with Geddy Lee? The man cites you as his biggest influence and was curious if that ever happened?

I have met Geddy Lee a long time ago at Wembley Arena when Rush played there. In fact, I was a possible candidate to produce a Rush album, but when I showed up there, Trevor Horn was sitting next to me. [laughs] I said to Trevor "What are you doing here?" and he said "Oh, I've been asked to come and meet the band because I might be producing them", and I said "so have I!". That was quite a long time ago - the early 80′s, I think. He cites me as a big influence? Well, that's very nice of him. They do good work, that band.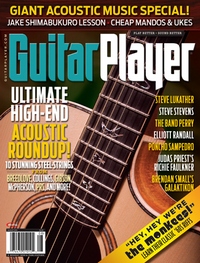 After releasing a series of instrumental singles back in 2011 including Hollowbody, Sonar and Disappearance, the Alex Lifeson-produced David Barrett Trio released their first full-length studio album earlier this year. The self-titled album was produced by Alex Lifeson, Rich Chycki, and Alan Parsons, and features Toronto musicians David Barrett (guitars), Jason Farrar (bass) and Alexander Sascha Tukatsch (drums). Financing for the production was done solely with the help of crowdfunding via RocketHub, and the graciousness of the band's producers, engineer and art house. Guitarist David Barrett is featured in the August issue of Guitar Player magazine for an interview where he talks about the album and working with Alex Lifeson. You can check out some excerpts from the interview in this post. The album is available on iTunes at this location and the physical CD can be purchased via the band's website. The album liner notes are also available for pdf download at this link. You can check out a video for the album's opening track Dive on YouTube at this location. There's also this in-studio footage with Alex Lifeson where Alex conducts a pre-production session with the band as they develop the ending for Great Eastern Sun, the last track on the album. Be sure to keep an eye on the band's Facebook page and website for all the latest updates.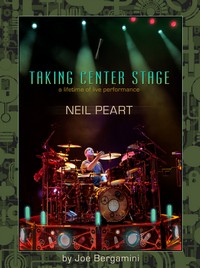 Back in October of 2012, Hudson Music released a full-color retrospective/transcription book companion to Neil Peart's third instructional DVD Taking Center Stage: A Lifetime of Live Performance. The book contains musical transcriptions, historical writing, instructional text, and a beautiful collection of photographs. It was written by Hudson Music Senior Drum Editor Joe Bergamini with a foreword by Neil Peart. Bergamini was recently interviewed for The Aquarian Weekly and spoke about working with Neil Peart:
... I never expected to meet Neil, much less work with him. Most everyone knows how private he is and that he doesn't attend many of the industry events where I've met most of my other favorite drummers. The fact that I got to work on a DVD and a book with Neil is certainly one of the highlights of my career, and a big childhood dream come true. I also have to say that Neil is a great guy: hard-working, creative, driven, smart, and very nice as well. It's a privilege to call him a friend. ...
You can purchase your copy of the book on Amazon at this location and other retailers.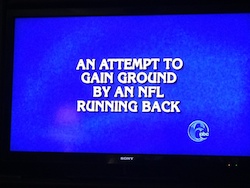 One of the answers in the Also a 4-Letter Band category on this past Tuesday night's episode of the American quiz show Jeopardy! made reference to Rush:
An attempt to gain ground by an NFL running back
The question of course was - What is a Rush?. This is the 3rd Rush-related answer to appear on the show this year. Back on April 8th the show used a Geddy Lee reference, and back on March 1st a Neil Peart reference was used. Rush was also referenced on the show back in February of 2011.
Rush was inducted into the Rock and Roll Hall of Fame back in April with the induction ceremony being televised a month later on May 18th on HBO. The HBO induction special ended up garnering a couple of Emmy nominations in 2 minor categories this past week; "Outstanding Technical Direction, Camerawork, Video Control For A Miniseries, Movie Or A Special" and "Outstanding Lighting Design/Lighting Direction For A Variety Special" (thanks YYZ Commish). And speaking of the Rock Hall induction, Tim Arsenault of the Halifax Chronicle Herald wrote an article earlier this week analyzing Alex's infamous blah speech titled Lifeson erupts in Rush of existential blahs.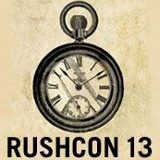 The 13th annual RushCon Rush fan convention took place a couple of weekends ago in Toronto and - as usual - it was a huge success. One of the attendees posted a rundown of the entire weekend to his blog earlier this week which you can check out here. All 4 custom RushCon 13 t-shirt designs are also now available for purchase at this location. For details about RushCon just go to RushCon.org, and be sure to follow them on Facebook and Twitter to stay up to date on all the latest RushCon news.
Geddy Lee's outstanding first pitch at the Blue Jays home opener this past April is one of the many first pitches featured in this Baseball Nation article on the magic of ceremonial first pitches.
Author, Rush fan, tech consultant and RIAB reader Phil Simon recently gave a Tech Cocktail talk on the fallibility of experts and used the fact that Rush was once dismissed by the experts to help illustrate his point. You can check out a video of his talk online here. The Rush bit comes in at about the 7:20 mark. Besides being a huge Rush fan, Phil Simon is a sought-after speaker, author of five books, and a recognized technology expert.

The Rush Backstage Club is now offering a Rush Starman car flag for just $9.99. You can check out the car flag along with a multitude of other Rush merchandise at RushBackstage.com.
Jeremy Thomas at 441Mania.com posted his list of The Top 5 Drummers and - not surprisingly - Neil Peart came in at #1:
When it comes to drumming, there's one name that sticks out above all the rest for me, and that's Rush's Neil Peart. In many ways he really is the ideal of what rock drummers should aspire to. From technical skill and an innovative sound to stylistic versatility, the ability to give the drum work a variety of roles within songs...there's just no one who has the complete package the way that Peart does. It's almost frightening what he can do with a drum set; his work pretty much blows every other competitor for this list out of the water and there's no question that for me, he's the top choice.
On the flip side, Simon Sweetman of Stuff.co.nz's Blog on the Tracks felt the need to post an entire article bashing Rush and Neil Peart earlier this week. He declares Neil Peart the world's most overrated drummer.
Reader HoustonRushFan let me know that this past Wednesday Rockline aired an encore presentation of Geddy Lee's November, 2000 appearance to promote his My Favorite Headache solo project.
5 years ago this past Tuesday, July 16th, Rush performed on television for the first time in over 30 years when they appeared on The Colbert Report. The whole band sat down with Colbert for a hilarious 5-minute interview and then performed Tom Sawyer. The appearance marked a significant turning point in the band's career and helped to launch them back into pop culture significance. The interview contained several memorable moments including this remark from Stephen regarding the fact that the band (at that time) had not yet been inducted into the Rock and Roll Hall of Fame:
You are yet to be inducted into the Rock and Roll Hall of Fame. Is there any chance that your next album will be called That's Bullshit?
When the band was finally inducted earlier this year, they even used this clip in the video introducing the band at the induction ceremony. Below is the video of the interview portion of the appearance.
That's all for this week. Have a great weekend!