UPDATE - 4/3@10:08AM: Geddy's pre-game interview on Toronto sports radio station The FAN 590's Prime Time Sports with Bob McCown is now available online here. Geddy comes in about half way in to the audio clip.
UPDATE - 4/3@8:31AM: Here are a few more photos of Geddy's first pitch. One from the Blue Jays Twitter feed and a couple more from the Windsor Star.
UPDATE - 4/3@8:20AM: And here's some video:
----- snip -----
UPDATE - 4/2@10:06PM: Baseball Nation has a couple of short video snippets of Geddy's first pitch here (thanks The Sphere). And here's a photo of Jays manager John Gibbons speaking with Geddy before the game.
UPDATE - 4/2@8:23PM: They played Tom Sawyer for Geddy and he proceeded to throw a strike! Reader Don C got some screenshots from the telecast and sent them along to me. Geddy is now happily sitting in his regular seats behind home plate, although the Jays are currently down 2-0 (go Tribe!).
UPDATE - 4/2@7:09PM:



Here are some screencaps from Geddy's appearance on Prime Time Sports courtesy Don C.
UPDATE - 4/2@6:26PM: Geddy is on! Listen in live right now here.
UPDATE - 4/2@5:27PM: Reader The Sphere noted that the schedule listed on the Prime Time Sports website has Geddy coming on at 6:20pm EST.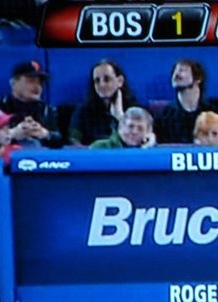 We learned last Wednesday that Geddy Lee would be throwing out the ceremonial first pitch at tonight's Toronto Blue Jays home opener against the Cleveland Indians. The game is scheduled to begin at 7:07PM EST. Hopefully they'll be some footage of the first pitch released online at some point. Geddy is a well-known baseball fanatic and is a regular fixture at Blue Jays home games where he can often be seen in his seats right behind home plate. Geddy will be a guest on Toronto sports radio station The FAN 590's Prime Time Sports with Bob McCown today to talk about baseball, throwing out the first pitch and more. Prime Time Sports runs from 4-7PM EST and can be heard online at this location. You can also watch Geddy talk baseball in this MLB Networks interview he conducted back in February. Geddy talks about how he became such a big baseball fan along with what his thoughts on the Blue Jays chances are this year.