UPDATE - 3/16@9:36AM: Here's a promotional video of the band playing a live version of the track (thank Power Windows). I've also embedded the video at the bottom of the post.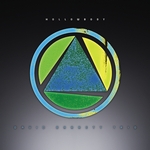 Back in January I'd mentioned that Alex Lifeson had lent his studio and production expertise to the Toronto-based David Barrett Trio. Late last year after the Time Machine tour the Trio went into Alex's home studio and recorded three tunes: Hollowbody, Sonar, and Disappearance with Alex producing and Rich Chycki handling the engineering duties. Hollowbody is now available as an MP3 download via Amazon.com and iTunes for just $0.99 and the other 2 tracks should also soon be available as well. Hollowbody is a rocking, 2Ĺ-minute instrumental track with a bunch of crazy guitar riffs that any Rush fan should really appreciate. You can listen to a short preview of the track at this link. There will be a concert and cd release party on Thursday, March 31st at 8PM (doors open at 7PM), at the Gibson Guitar Artist Showroom (1205 King West, Toronto, ON). They'll have a special EP available for sale which will have the three aforementioned tunes on it. They'll also be recording some more tunes after the 2011 leg of the Time Machine tour. From a January post on David Barrett's blog:
Exactly a year ago, I played my new solo album The Dead Arm for guitar hero and mentor Alex Lifeson. He liked it and mentioned that maybe we should consider doing something together in the future. I agreed. He advised me to write a ton of music which we would then later sift through and pick the best tunes to develop. His other advice was to include some other musicians to further develop the songs. I asked Sascha Tukatsch to play drums and Jason Farrar to play bass. We arranged the music and worked really hard on it. Their contributions and enthusiasm have been truly outstanding! After the Rush Time Machine tour ended and Big Al was rested, we went into his studio and recorded three tunes: Hollowbody, Sonar, and Disappearance. Rich Chycki engineered. Rich produced my first solo album back in 1995, everything Iíve learned about recording Iíve learned from Rich, I donít think thereís anyone better. And Big Alís approach to arranging, performance, and production was truly illuminating. We also had a lot of laughs in the studio, more than I can remember on any sessions Iíve ever done. Weíve finished these three and will release them soon, once we figure out the details. I just wanted to let everyone know that weíve got some new music ready to be released and that weíre very excited about the whole thing!