UPDATE - 7/16@7:28AM: Here's a nice gallery of photos that was posted over at Cygnus-X1.net.
UPDATE - 7/15@9:25AM: Here's the video of The Trailer Park Boys skype-calling the winner of their SwearNet.com Big Rush Fan contest (thanks RushFanForever).
----- snip -----
UPDATE - 7/15@8:09AM: Official photos have been posted at Rush.com.
UPDATE - 7/14@9:56PM: The show is over and it was the Night B - version 5 set. Reader Kelly D reports that the Trailer Park Boys along with Randy (sans shirt) came out on stage towards the end of the 2nd set.
UPDATE - 7/14@7:24PM: So far it looks like Night B - version 5 (thanks Kelly D). Reader Paul D reports that the Trailer Park Boys are in the audience at the show.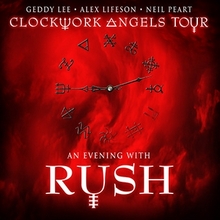 Rush closes out the first portion of the summer leg of the 2013 Clockwork Angels tour tonight with their second of 2 back-to-back shows at the Halifax Metro Centre. For Friday night's sold out show, the band played their Night A set for the Halifax crowd, so fans at tonight's Bastille Day celebration show should definitely be seeing a Night B set. I'll post confirmation of this as soon as I learn about it. For all of the Atlantic Canadian fans going to the show tonight, have fun, be safe, and make sure to share your photos, videos and reports with us. Rush to Halifax ... again!!!! And happy Bastille Day everybody!
Date/Time: Sunday, July 14th @ 7:30PM
Show Number: 31
Venue: Halifax Metro Centre
Place: Halifax, NS
gallery: [view] [upload] [YouTube videos]
reviews: [reviews] [setlist]