UPDATE - 7/12@3:00PM: Reader Eric A reports that he logged into his VIP Nation account and the ticket package was automatically transferred over to the Red Deer venue.
UPDATE - 7/12@12:35PM: Reader campbellcanuck received the following email from Music Today:
... all of our fan club customers will be emailed a special code that will get them access to special tickets held just for the fan club. It will be separate from the presale happening now - if you have any more questions, please give our CS a call at 1-800-594-TIXX.
Also, reader clockwork-fan bought tickets through Ticketmaster and did receive an email with an offer code, and was able to purchase tickets.
----- snip -----
UPDATE - 7/12@12:22PM: The pre-sale is now up on Ticketmaster but you need an offer code to complete your purchase. I assume that Calgary ticketholders have been or will be sent the offer code. If anyone has any information, please let us know.
UPDATE - 7/12@10:57AM: The pre-sale is scheduled to begin shortly at 10AM MST (12PM EST). But as of this point I haven't heard from anyone who has actually been contacted regarding the pre-sale details. They've also indicated via the Live Nation Alberta Facebook page that VIP Nation will be directly contacting VIP ticket package purchasers. There hasn't been any word regarding Music Today fan pre-sale tickets though. If anyone gets contacted by either Ticketmaster, VIP Nation or Music Today, please let us know.
UPDATE - 7/11@10:35PM: Ticketmaster now has the show listed on their website as going on sale to the general public on Monday, July 15th at 10AM. There's nothing regarding any pre-sales at this time, except for this message on the Live Nation Alberta Facebook page:
Calgary: The RUSH show on July 24 has been rescheduled for the same date in Red Deer, with all proceeds going to Alberta Flood Relief. Tickets bought online or by phone will be refunded automatically, or return to your point of purchase. Ticket holders will receive an email from Ticketmaster with exclusive presale details for the new show. Any tickets remaining after the presale will be available to the general public on Monday, July 15 @ 10am. ...
I've updated the information in the tour section as well.
----- snip -----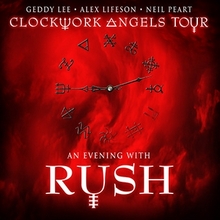 As has been anticipated for a few weeks now, Rush has been forced to cancel their upcoming July 24th show at the Calgary Saddledome due to the recent flooding there. They will instead perform a separate show on the same date in Red Deer, Alberta at the Enmax Centrium with all proceeds to go to Alberta Flood Relief. From Rush.com:
CALGARY SHOW UPDATE

RED DEER - ENMAX CENTRIUM
WEDNESDAY, JULY 24, 2013
Doors: 7:00PM Show: 8:00PM

Due to recent flooding and water damage at the Scotiabank Saddledome, the RUSH concert originally scheduled for Wednesday July 24 had to be cancelled.

Rush has been moved by the situation in Alberta and have decided to perform their Clockwork Angels show at the closest location possible on the same date - Wednesday, July 24 in Red Deer, Alberta at the Enmax Centrium - and have ALL PROCEEDS to go Alberta Flood Relief.

Rush will be donating their fee, and paying for all their expenses. Their promoter partner Live Nation will also be donating their time and fees towards this cause. The venue, Enmax Centrium, will be donating goods and services to the event as well. It's an all -hands-on-deck situation to donate time in order to raise as much money possible for our Alberta friends and fellow Canadians in need.

Lead vocalist and bassist for Rush, Geddy Lee, has made the following statement: "After seeing the devastation from the recent floods, we felt compelled to do what we could. While we had hoped to avoid cancelling the Calgary show, venue safety concerns have closed the venue. Our apologies to all of the fans that bought tickets to the Calgary show for any inconvenience. We're hoping they - along with the great people of Red Deer - can come to the Enmax Centrium for what has now become a benefit concert. We'd like to thank everyone helping to put on this show for joining us in donating their time & services so we can raise as much money as possible to help those in need."

Calgary ticket holders will have a chance to access a pre-sale to purchase tickets to the new Red Deer show starting Friday July 12th 10AM, until Sunday July 14 at 10PM (or while quantities last), before tickets go on sale to the general public on Monday, July 15 at 10AM. Presale information will be sent directly to those who had purchased tickets to the Calgary show. For further inquiries, fans can visit the Live Nation Alberta page on Facebook: www.facebook.com/livenationalberta

All tickets purchased online or via telephone will be automatically refunded starting on July 12th. Tickets purchased in person from a Ticketmaster outlet can be refunded at the original point of purchase outlet, starting July 16th. Tickets purchased in person at the Scotiabank Saddledome Box Office can be refunded at the Box Office, which is now reopened.

ALL PROCEEDS FROM THE RED DEER RUSH BENEFIT CONCERT WILL GO TO THE CANADIAN RED CROSS TO SUPPORT THE ALBERTA FLOOD RELIEF.

BUY TICKETS AT: LIVENATION.COM

Charge by Phone 1-855-985-5000
Tickets also available at Ticketmaster Outlets

Tickets on sale Monday, July 15th at 10am

Tickets (incl. GST) $60.00, $86.00, $116.00
(Plus Service charges)

**RESERVED SEATING / ALL AGES**
I will be updating the tour section with all the relevant information this evening.