UPDATE - 7/19@12:58PM: Here's Rolling Stones's write-up on the Rush postage stamps.
UPDATE - 7/19@10:00AM: It looks like the framed prints are already sold out!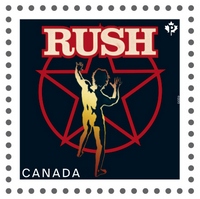 Today the Canada Post is officially releasing a Canadian Recording Artist stamp series featuring Rush and other Canadian artists. They had first announced the series back in April in this press release:
... "This year's series features Canadian bands that have shaped the music industry in Canada," says Jim Phillips, Director of Stamp Services for Canada Post. "Each band has achieved national acclaim, along with international radio air-time and extensive tours." ...
Rush's stamp features the iconic Rush Starman. Along with Rush, Beau Dommage, The Guess Who and The Tragically Hip are also honored with a stamp. In addition to the stamps themselves, Canada Post is also offering postcards and limited edition framed prints (only 750 will be made available). The Canadian Recording Artists stamp series are now available from Canada Post retail outlets and can also be purchased online via canadapost.ca.