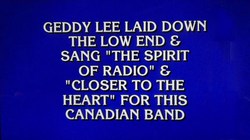 One of the $800 answers in the Bass and Vocals category on tonight's episode of the American quiz show Jeopardy! made reference to Rush and Geddy Lee:
Geddy Lee Laid Down the Low End & Sang "The Spirit of Radio" and "Closer to the Heart" For This Canadian Band
The question of course was - What is Rush?. This is the 2nd Rush-related answer to appear on the show in the last month. Back on March 1st the show used a Neil Peart reference as the answer to the What is Rush? question. Rush was also referenced on the show back in February of 2011. Thanks to John at Cygnus-X1.net for the heads up and screenshot.