UPDATE - 7/5@1:33PM: In the lead-up to tomorrow's Rush concert, CBC Hamilton just posted an article profiling Rush fans and RushCon titled Rush nerds: an inside look (thanks Sean V).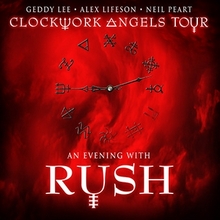 Rush's summer leg of the Clockwork Angels tour is in full swing and rolled through the Midwest this past week, playing shows in Chicago, Grand Rapids, Cincinnati and Milwaukee. The show in Chicago was extra special because Daniel Carcillo of the NHL champion Chicago Blackhawks stopped by and brought along his friend Lord Stanley - aka the Stanley Cup. You can check out photos and video of Lord Stanley's appearance in this post. Rush returns to the homeland this weekend to begin a series of Canadian dates starting in Hamilton, then heading to Ottawa, Quebec City and Halifax for a 2-night stand before taking a short break. They'll then head out west to close out the tour with a series of 6 shows. One of these is a July 24th show at the Calgary Saddledome, which recently suffered some major flooding damage and had to cancel a number of events. As of right now, the Rush show is still on but that could change. We'll keep our fingers crossed for the Calgary fans. Rush will also be donating $1 of every ticket sold from 5 of their upcoming Canadian shows to the Unison Benevolent Fund. In the lead-up to the Canadian leg of the tour, the Canadian Press published a new interview with Geddy Lee and Neil Peart this morning which was conducted in Los Angeles back in April. Here's what they had to say regarding finally making it to Halifax where the band hasn't made an appearance in 26 years.
... "I feel bad when we're not able to get to a place," frontman Geddy Lee said during a sit-down in Los Angeles in recent months. "We had the same thing with Winnipeg. We didn't get there forever. And people were making up crazy stories about why we wouldn't come to Winnipeg." "The dots didn't connect," interjected percussion virtuoso Neil Peart. "They never connected," agreed Lee. "So we're trying harder now to make those dots connect." ...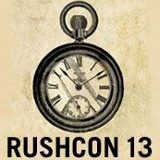 The show in Hamilton tomorrow night will be the centerpiece of the annual RushCon Rush fan convention which kicks off tonight in Toronto. The convention will consist of 3 days of Rush-filled events, including an opening mixer tonight at the legendary Massey Hall, a day trip to Lakeside Park tomorrow, the Rush show in Hamilton tomorrow night, an Anthem Records tour on Sunday, a full day of convention events at the Hard Rock Cafe on Sunday including an appearance by Rush: The Illustrated History author Martin Popoff, and a private party at the Orbit Room Sunday night with the David Barrett Trio! Online registration is closed but you can still register at the door between 4 and 6PM. For all the details just go to RushCon.org, and be sure to follow RushCon on Facebook and Twitter to stay up to date on all the latest RushCon news.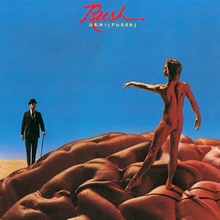 We learned earlier this week that Audio Fidelity will be releasing an SACD (Super Audio CD) version of Rush's Hemispheres on August 6th. Rumor has it that it may also be getting released on 180g vinyl as well, although that hasn't yet been confirmed. You can pre-order your copy of the Hemispheres SACD at this location. Audio Fidelity released an SACD version of Counterparts earlier this year.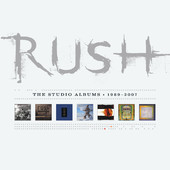 Back in May Rush released 2 new digital-only album collections: Rush The Complete Mercury Years and Rush: The Studio Albums 1989-2007. Rush The Complete Mercury Years contains Rush's complete Mercury catalog (all their albums up through A Show of Hands), including the new 2112 Deluxe Edition and 2008's Working Man vault edition. This Mercury collection was essentially already made available via 2011's Sectors box sets (excluding the 2112 Deluxe Edition and Working Man vault edition), but this was the first time they were released for sale digitally. Rush: The Studio Albums 1989-2007 contains the entire Atlantic-era Rush studio catalog (Presto through Snakes & Arrows). The collections were mastered by Andy Van Dette from Masterdisk using the original master tapes through analog console, equalizers and compressors before being recaptured at 96kHz/24bit lossless audio. The lossless audio versions were made available via HDTracks.com for a significantly higher cost, but with much better quality than the mastered for iTunes versions. Masterdisk also promised that a physical version of the remastered The Studio Albums 1989-2007 collection would eventually be made available. Warner Music Japan looks to be the first to be offering these physical versions, as they will be releasing Mini-LP Super High Material CDs (SHM-CDs) of all of Rush's Atlantic-era studio albums on September 25th. It's likely that a North American release on CD will follow shortly thereafter.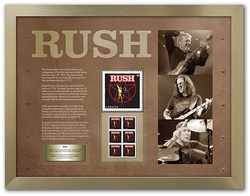 The Canada Post announced back in April that they would be releasing a Canadian Recording Artist stamp series featuring Rush and other Canadian artists on July 19th. From the press release:
... "This year's series features Canadian bands that have shaped the music industry in Canada," says Jim Phillips, Director of Stamp Services for Canada Post. "Each band has achieved national acclaim, along with international radio air-time and extensive tours." ...
Rush's stamp features the iconic Rush Starman. Along with Rush, Beau Dommage, The Guess Who and The Tragically Hip will also be honored with a stamp. In addition to the stamps themselves, Canada Post is also offering postcards and limited edition framed prints (only 750 will be made available). The Canadian Recording Artists stamp series will be available from Canada Post retail outlets starting July 19 and can also be pre-ordered online via canadapost.ca.
Way back in early 2012 we first learned that Neil Peart had played drums on a couple of tracks for the next Vertical Horizon album, which was finally completed last month and now has a name as well - Echoes from the Underground. The first single from the album is Broken Over You and was released online for free download earlier this week. It's not clear if Neil played on this track or not, but it doesn't sound like it. At this point all we know is that Neil played on at least 2 tracks; Instamatic and another unnamed track. Here's some video of Neil in the studio with Vertical Horizon from back in early 2012. Neil had also made a guest appearance on Vertical Horizon's 2009 album Burning the Days, playing drums on three of the tracks along with penning the lyrics for one. Vertical Horizon is currently on tour this summer supporting the album as part of the Under the Sun tour. For all the latest information on the album and tour, visit the Vertical Horizon website here.
Neil Peart and Rush's Lakeside Park gets a mention in this article on protecting Niagara's beaches:
When he penned a tribute song to Lakeside Park in the mid-1970s, Rush drummer Neil Peart spoke fondly of his memories of barkers, midway rides and willows in the breeze. He left out the part about the sewage in the water that could leave you with eye and ear infections, vomiting and diarrhea. ...
Yikes. The folks at RushCon probably should not go swimming when they visit Lakeside Park this weekend!
Andrew Bucholtz at Yahoo! Sports wrote an entire article last week comparing and contrasting Rush with the 3 key figures of the Canadian Football League's British Columbia Lions; general manager Wally Buono, head coach Mike Benevides and offensive coordinator Jacques Chapdelaine. If you follow the CFL and are a Rush fan, you might be interested in reading it... otherwise probably not. :)

Reader John R noticed a 2112 reference on MSNBC's Rachel Maddow show last Wednesday, June 26th. They were discussing how far an intern had to sprint to give updated info between the US Immigtation Court and DOMA. They then showed a map illustrating that it was exactly 2112 feet. Here's a screenshot. :)
Reader Merv has started a Flickr group where users post scans and photographs of Rush memorabilia including tickets, badges, flyers, record sleeves, posters and magazine articles. There's some really cool stuff up there currently so check it out when you get a chance. And if you have anything to contribute, join the group and please do so.
Earlier this week reporter Roger Clark of New York TV station NY1 was reporting live from the location of the Northeast Semi-Finals for the US Air Guitar Championships. After one of the competitors gave an air-guitar demonstration, Clark decided to get in on the act and proceeded to bust out an air guitar rendition of Rush's Tom Sawyer in celebration of Canada Day - much to the chagrin of the morning anchor Pat Kiernan. You can watch his performance on YouTube below or at this location (thanks Jim H):
That's all for this week. Have a great weekend!