UPDATE - 7/8@9:54AM: Paul Gleason at Caught in the Carousel wrote this great piece describing the experience of taking his kids to see Rush for their first concert experience. It's titled The Kids' First Concert: Rush Live at Summerfest Bring Generations Of Their Fans Together and you can check it out here.
UPDATE - 7/6@12:26PM: Here's a review from ExpressMilwaukee.com.
UPDATE - 7/5@12:16PM: Here's a photo gallery from the show that was posted over at Cygnus-X1.net.
UPDATE - 7/5@12:03PM: Reader Paul D noticed that in this photo from the official Rush.com gallery, you can see 2 guys that look to be Kevin Hearn and Jim Creeggan of the Barenaked Ladies!
UPDATE - 7/5@11:53AM: Here's a review from OnMilwaukee.com.
UPDATE - 7/5@9:34AM: The band played their Night A - version 3 setlist (thanks Kelly D) and official photos are now posted at Rush.com.
UPDATE - 7/4@10:24PM: It looks like Night A - version 3 so far (thanks Kelly D).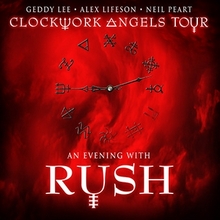 Rush will be helping fans in Milwaukee celebrate the 4th of July tonight when they bring the pyrotechnics of the Clockwork Angels tour to the Marcus Amphitheater stage as part of the Milwaukee Summerfest celebration. The band is due to play one of their Night A setlists tonight, and I'll post confirmation of that as soon as I learn about it. In the lead-up to Rush's headlining performance, Rush tribute band Animation will be performing at one of the Summerfest side stages all afternoon. Their first show begins at 2PM at the BMO Harris Pavilion, and then they'll do one more at 5PM. For details check out the Summerfest website. For everybody celebrating the 4th of July at Summerfest tonight, have fun, be safe, and make sure to share your photos, videos and reports with us. Happy 4th of July everybody!!!
Date/Time: Thursday, July 4th @ 7:30PM
Show Number: 26
Venue: Marcus Amphitheater
Place: Milwaukee, WI
gallery: [view] [upload] [YouTube videos]
reviews: [reviews] [setlist]