UPDATE - 7/3@2:34PM: UPDATE - 7/3@9:46AM: John over at Cygnus-X1.net posted this great gallery of photos from last night's show, and there's also this photo gallery over at Cincinnati.com (thanks Iacobillo).
UPDATE - 7/3@7:19AM: From the reports in the comments (thanks Rob, kjbird), it looks like they played the Night B - version 3 setlist. If anyone can confirm this, please let me know. Official photos have also been posted over at Rush.com.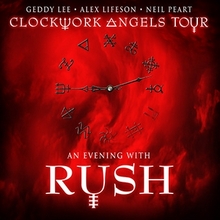 Rush flies the Clockwork Angels tour airship down to Cincinnati, OH tonight to play the Riverbend Music Center for stop number 25 on the 2013 tour. The band played one of their Night A sets for the crowd in Grand Rapids Sunday night, so the Cincinnati fans should be seeing one of the Night B sets. I'll post any setlist information as soon as I learn about it. For everybody going to the show tonight, have fun, stay safe, and be sure to share your photos, videos and reports with us. Rush on!!
Date/Time: Tuesday, July 2nd @ 7:30PM
Show Number: 25
Venue: Riverbend Music Center
Place: Cincinnati, OH
gallery: [view] [upload] [YouTube videos]
reviews: [reviews] [setlist]