UPDATE - 7/1@10:29PM: Here's a great gallery of photos posted over at Cygnus-X1.net.
UPDATE - 7/1@7:02AM: Last night's setlist was Night A - version 4 (thanks I love Rush) and official photos have been posted at Rush.com. The Calder Cup made an appearance as shown in this photo. There's also this review and photo gallery from the Grand Rapids Press.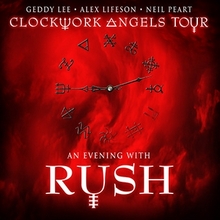 Rush brings the Clockwork Angels tour to Grand Rapids, MI tonight to play the Van Andel Arena. The last time Rush played in Grand Rapids was way back on October 23rd of 1996 on the Test for Echo tour, where they were one of the first acts to play at the Van Andel Arena after the venue opened its doors on October 8th. The band played the Night B - version 5 set for fans in Chicago Friday night, so tonight's crowd should be seeing one of the Night A sets. I'll post any setlist information as soon as I learn about it. For everybody going to the show, have fun, be safe, and make sure to share your photos, videos and reports with us. Welcome back to Grand Rapids Rush!
Date/Time: Sunday, June 30th @ 7:30PM
Show Number: 24
Venue: Van Andel Arena
Place: Grand Rapids, MI
gallery: [view] [upload] [YouTube videos]
reviews: [reviews] [setlist]