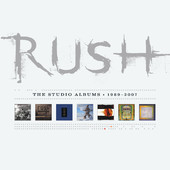 Yesterday Rush released 2 new digital-only album colections: Rush The Complete Mercury Years and Rush: The Studio Albums 1989-2007. Rush The Complete Mercury Years contains Rush's complete Mercury catalog (all their albums up through A Show of Hands), including the new 2112 Deluxe Edition and 2008's Working Man vault edition. This Mercury collection was essentially already made available via 2011's Sectors box sets (excluding the 2112 Deluxe Edition and Working Man vault edition), but this marks the first time they've been released for sale digitally. Rush: The Studio Albums 1989-2007 contains the entire Atlantic-era Rush studio catalog (Presto through Snakes & Arrows). The collections were made available via iTunes for $79.99 and $49.99 respectively, and billed as being mastered for iTunes (see this article explaining what that really means). The Atlantic-era Rush: The Studio Albums 1989-2007 along with the Sectors collections were also made available as 96kHz/24bit lossless audio via HDTracks.com for a significantly higher cost, but with much better quality. From the HDTracks.com website:
Mastered by Andy Van Dette from Masterdisk from the original masters through analog console, equalizers and compressors before being recaptured at 96kHz.
You can purchase these remastered Rush collections via HDTracks.com at this location and get a 10% discount by using the coupon code rush10 (thanks Mark R). The latest Masterdisk newsletter also reveals that the remastered The Studio Albums 1989-2007 collection will eventually be made available on a physical format as well:
Rush fans rejoice! Andy VanDette's highly-acclaimed remastering work for Rush continues! Andy recently completed the series of albums from 1989's "Presto" to 2007's "Snakes and Arrows." The new remasters will first see release at the Mastered for iTunes store, then HD Tracks, and later in physical formats.
Note that the Atlantic-era collection contains a remastered version of Vapor Trails, but not the same re-mixed version that Rush and Rich Chycki have been working on (this project is currently in limbo), and which was partially released (One Little Victory and Earthshine) on the Retrospective 3 compilation.