UPDATE - 4/19@1:00PM: Check this post for video from the event.
UPDATE - 4/18@10:41AM: Here's an ABC radio interview (thanks RushFanForever) covering the induction and Rush and other Canadian rock artists will be featured on a new line of Canadian stamps.
UPDATE - 4/18@6:25AM: Here's a new interview with Geddy Lee and Neil Peart where they discuss the band's induction. And here's a CBC article covering the event.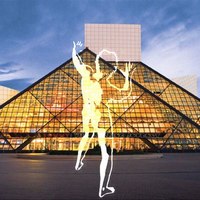 Today is the big day. Rush will be inducted into the Rock and Roll Hall of Fame in a ceremony to be held tonight at the Nokia Theatre in Los Angeles at 7PM PST (10PM EST). The band will be inducted by Dave Grohl and Taylor Hawkins of the Foo Fighters and will be performing. An edited 2-hour version of the ceremony will air on HBO next month, but there will not be any kind of live streaming of the event. Also - Rush has unfortunately decided to have a closed rehearsal today, so those few who purchased VIP packages including viewing of rehearsals won't be seeing Rush... although they will be seeing the other performers rehearse. From thee looks of this Tweeted photo Rush will be sitting next to Public Enemy tonight (thanks David J). I'll be at the ceremony and will be posting live updates and photos - mostly via Twitter @rushisaband. I'll also be updating this thread as I am able to. You can follow my updates on Twitter or via my Twitter feed widget below. The Cleveland Plain Dealer will also be covering the event live at this location beginning at 9PM EST. See you in LA!
Related Posts:
[Geddy Lee and Alex Lifeson talk Rock Hall induction in new Village Voice interview]
[Geddy Lee and Alex Lifeson talk Rock Hall induction in new USA Today article]
[Geddy Lee talks Rock Hall induction in new Toronto Sun interview]
[Geddy Lee and Alex Lifeson talk Rock Hall induction in new interviews]
[Founding Rush drummer John Rutsey excluded from Rock Hall induction as a member of Rush]
[2013 Rock Hall inductees exhibit opens April 16th]
[Rock Hall induction ceremony update from RollingStone.com]
[Rush on their fellow 2013 Rock Hall inductees in new Rolling Stone article]
[Reduced-price $100 Orchestra and Loge level tickets for Rock Hall induction ceremony released by Ticketmaster]
[Yes' Chris Squire, Coheed and Cambria's Claudio Sanchez comment on Rush's Rock Hall induction in recent interviews]
[Foo Fighters to induct Rush into the Rock and Roll Hall of Fame; induction ceremony pre-sale details released]
[Rock and Roll Hall of Fame inductee announcement open thread]
[Rock and Roll Hall of Fame to announce 2013 inductees in a press conference next Tuesday, December 11th]
[Cleveland Plain Dealer profiles Rush superfan Peter Chakerian in wake of Rush's Rock Hall nomination]
[Rush Rock and Roll Hall of Fame nomination news updates]
[It's official! Rush FINALLY nominated for induction into the Rock and Roll Hall of Fame!!]
[Rush finally nominated for induction into the Rock and Roll Hall of Fame!?]