In the wake of Rush's recent nomination for induction into the Rock and Roll Hall of Fame, the Cleveland Plain Dealer ran an article in today's edition attempting to explain Rush's zealous fanbase by profiling a typical Rush superfan; Cleveland-based journalist Peter Chakerian (aka The Analog Dad on RIAB). Peter lists off some of his qualifications as a fanatical Rush junkie including this shout-out to rushisaband.com:
"I belong to several Rush online blog/message boards, including Rush Is a Band, which is owned-operated by Cleveland-based web developer Ed Stenger. Even if you're even a casual fan, if you're not a member of RIAB, you're really missing everything Rush-related."
Peter also shares his thought's on the band's Rock Hall nomination and how fans have differing opinions on the matter:
... [it] has splintered the usually united fans quite a bit. I'm not part of the militant camp of fans who 'won't step foot in the Rock Hall' unless Rush is in there. That's sorta silly to me. And I'm not part of the fan group saying 'they're too good' for the hall, telling Geddy, Alex and Neil to boycott the induction like Axl Rose and tell officials to pound salt. "I'm the party of the third part: They belong there, they deserve to be there. If induction hinges on longevity, influence and creativity, they have more than fulfilled the criteria. They'll be the upstanding guys that they are, accept the honor on behalf of all the fans, perform to skewed faces at the ceremony (just like Iggy Pop did) and all will be right in the world." ...

You can read the entire article here. Last summer I had posted photos of Peter and his son's Rush concert setup in Legos in a Friday updates post.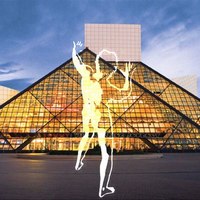 Both Geddy Lee and Alex Lifeson made their thoughts known regarding the nomination in 2 recent interviews. Here are Alex Lifeson's comments from his interview with The Record last week:
... "I'm really happy for the Rush fans who feel that it is really important, and I hope we're inducted for their sake," guitarist Alex Lifeson said by phone from a tour stop in Philadelphia. The band plays Saturday in Newark. "Personally it never really mattered to me, but at the same time it's nice to be nominated." Lifeson said induction into the Rock Hall in Cleveland would not compare to the band's having received one of the prestigious Governor General's Performing Arts Awards for Lifetime Artistic Achievement in March, the highest honor bestowed on artists by the Canadian government. "The acknowledgement we got from the Canadian government, and by extension Canadians, is very dear to us," Lifeson said. "The Rock and Roll Hall of Fame is more a popularity contest." ...
And here are Geddy's comments from his Star-Ledger interview:
... Rush finally earned a nomination to the Rock and Roll Hall of Fame - prompting some zealots to suggest that the long-snubbed trio should tell the selection committee to take a hike. "That's not very Canadian," says Lee, laughing. "It's an honor, and any time somebody wants to honor you, you should be gracious. But it's never been something that's been super-important to us. Awards are outside of you. We're aware that it means so much to the fans, and since it does, it has to mean something to me. I almost feel like they're vindicated more than we are. "It's hard to put into words what it means to us that our fans have been so passionate. It makes us want to play all the better. They've invested so much - we try very hard to make the shows worth it for them." ...
These were the first interviews where the band has commented on the nomination. For the first time ever the Rock Hall is offering the public a chance to participate in the induction process by creating an online fan poll that will count as one fan ballot towards the official vote on the ultimate list of inductees. As of this post, Rush still has a very comfortable lead in that poll with about 25% of the vote; Deep Purple is next with 17%. Voting ends on December 3rd when the fan ballot along with ballots from 600 or so rock historians, music industry insiders and past inductees will be counted up to determine the 5 or 6 inductees for inclusion in the 2013 class; the final announcement should be made shortly thereafter.
Related Posts:
[Geddy Lee on Rush's Rock Hall nomination in new interview]
[Alex Lifeson on Rush's Rock Hall nomination in new interview]
[Rush Rock and Roll Hall of Fame nomination news updates]
[It's official! Rush FINALLY nominated for induction into the Rock and Roll Hall of Fame!!]
[Rush finally nominated for induction into the Rock and Roll Hall of Fame!?]