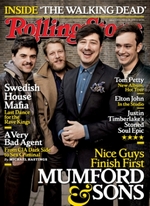 There's a short 1-page article in the latest issue of Rolling Stone magaazine (Issue 1179 - March 28, 2013) titled Rush's School of Rock where Geddy Lee and Alex Lifeson are played one song from each of their 5 fellow 2013 Rock Hall inductees and asked to comment on them. In typical Canadian fashion, they have nothing but mostly nice things to say about all the inductees. They played them Heart's Barracuda, Donna Summer's Last Dance, Randy Newman's You've Got a Friend in Me, Crosscut Saw by Albert King and Public Enemy's Fight the Power. Here's what they said about Public Enemy:
LIFESON: I never listened to stuff like this, but I always found it fascinating.
LEE: You can groove to this. I know people who were really into this kind of music and had lots of respect for Public Enemy. Obviously it's a different way of delivering the message, and the rhythms were so infectious. I do a little rap on "Roll the Bones", and even "Tom Sawyer" to a certain degree has a spoken-word intro. It's not rap, essentially, but in a way it's our version of it.
LIFESON: Yeah, we invented rap [laughs].
You can read the entire article by clicking on the thumbnail above. Thanks to RushFanForever for the heads up and the screenshot.