UPDATE - 3/26@9:54AM: Tickets now look to be sold out.
UPDATE - 3/22@10:51AM: It looks like they may be out of the Orchestra level seats now, although Loge level seats remain. They may always release more at a later date though.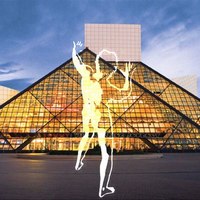 Ticketmaster has just released several reduced-price tickets for the Rock and Roll Hall of Fame induction ceremony in both the Orchestra and Loge levels. Tickets in these sections had originally been priced between $350-750 but can now be purchased for just $100 as of this post! I'm not clear what this means to those who had already purchased tickets in these sections for the higher price. Knowing the way Ticketmaster operates, my guess is that no refunds will be given. I'm not sure how long this deal will last, so get them while you can. Many thanks to Stephen T for the heads up. The induction ceremony will take place at the Nokia Theatre in Los Angeles on Thursday, April 18th and Dave Grohl and Taylor Hawkins of the Foo Fighters will be inducting the band. The other inductees are Heart, Albert King, Randy Newman, Public Enemy, and Donna Summer. Slated to appear at the induction are John Mayer and Gary Clark Jr., who will perform for King, with Mayer giving the induction speech; Don Henley, who will induct Newman; and Christina Aguilera and Jennifer Hudson, who will perform in honor of Summer. Although not officially announced yet, Heart revealed via their Facebook page that Chris Cornell of Soundgarden will be doing the honors for them.
Related Posts:
[Yes' Chris Squire, Coheed and Cambria's Claudio Sanchez comment on Rush's Rock Hall induction in recent interviews]
[Rock and Roll Hall of Fame induction ceremony fan pre-sale today]
[Rock and Roll Hall of Fame induction ceremony fan pre-sale and ticket price details]
[Foo Fighters to induct Rush into the Rock and Roll Hall of Fame; induction ceremony pre-sale details released]
[Rock and Roll Hall of Fame induction ceremony ticket sale and pre-sale information released]
[Rock and Roll Hall of Fame inductee announcement open thread]
[Rock and Roll Hall of Fame to announce 2013 inductees in a press conference next Tuesday, December 11th]
[Alex Lifeson talks Rock Hall, friendship and Rush's longevity in new Cleveland Plain Dealer interview]
[Cleveland Plain Dealer profiles Rush superfan Peter Chakerian in wake of Rush's Rock Hall nomination]
[Geddy Lee on Rush's Rock Hall nomination in new interview]
[Alex Lifeson on Rush's Rock Hall nomination in new interview]
[Rush Rock and Roll Hall of Fame nomination news updates]
[It's official! Rush FINALLY nominated for induction into the Rock and Roll Hall of Fame!!]
[Rush finally nominated for induction into the Rock and Roll Hall of Fame!?]