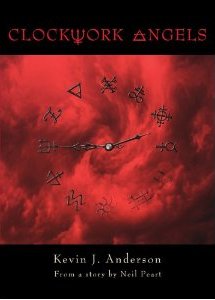 The latest issue of the ECW Press newsletter focuses on the Clockwork Angels novel and is tailored specifically to Rush fans. It includes details on a contest to win their last signed copy of Clockwork Angels: The Novel:
We're giving away a copy of Clockwork Angels signed by Neil Peart and Kevin J. Anderson. This is the very last signed copy we have, and it comes in a cool Clockwork slipcase. The prize pack also includes the audiobook and an album sampler. To be entered to win, Like us on Facebook or reply to this email with "Hey ECW Press, my favorite Rush song is _________" and fill in the blank. For a bonus entry, share our page with your friends. Contest closes December 16, 2012.
The newsletter also contains an excerpt from My First Guitar by ECW Press author Julia Crowe where Alex Lifeson describes his first guitar:
"I was twelve years old when I received my first guitar from my parents for Christmas in 1965. It was a Kent Classic - a classical guitar that I put steel strings on."
There's also a short article included where Kevin J. Anderson describes his experience at last month's RushCon in Toronto:
... The RushCon attendees were warm and welcoming, very enthusiastic, and they asked questions about the creative process, details of the story, close connections with the lyrics. The line of fans for my book signing was the most gratifying I've had in years. I could have hung around with them for much longer - but we all had a concert to get to. ...
You can check out the newsletter online at this link.
Related Posts:
[Clockwork Angels: The Novel released, new interview with author Kevin J. Anderson]
[Clockwork Angels: The Novel Toronto world premiere book launch report and photos]
[Clockwork Angels: The Novel world premiere book launch tonight]
[Kevin J. Anderson talks Clockwork Angels: The Novel in new SciFi Pulse interview]
[Clockwork Angels: The Novel world premiere book launch]
[Clockwork Angels: The Novel preview booklet free pdf download]
[Clockwork Angels: The Novel highlights posted at The Lofty Oaks]
[Clockwork Angels: The Novel special signed and numbered editions on sale now]
[Clockwork Angels: The Novel special signed and numbered editions on sale this Friday]
[Clockwork Angels novel sampler booklet giveaway]
[Clockwork Angels audiobook narrated by Neil Peart]
[Clockwork Angels novel sampler booklet at Book Expo America]
[Clockwork Angels: The Novel official press release]
[Clockwork Angels novelization cover art now available]
[Clockwork Angels novelization by Kevin J. Anderson and Neil Peart now available for pre-order]
[Kevin J. Anderson's novelization of Rush's Clockwork Angels album due out this Fall from ECW Press]
[Author Kevin J. Anderson to write novelization of Rush's upcoming Clockwork Angels album]