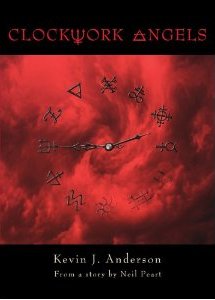 Back in February we learned that sci-fi author and friend of Neil Peart Kevin J. Anderson would be writing a novelization of Rush's upcoming Clockwork Angels album which would be released in the Fall by ECW Press. The official press release announcing the novel was released this afternoon via Anderson's website. From the press release:
... "This is a dream project for me," Anderson says. "I have always envisioned epic stories when listening to Rush music, and now working with Neil, it's possible to translate those stories to the printed page. Clockwork Angels: The Novel turned out even better than we had hoped. I think it's one of my very best books."

"As my 38 years with Rush will attest, I very much enjoy collaboration with like-minded artists," Peart says. "Working up this story with Kevin was one of the easiest, yet most satisfying projects I have ever shared-easiest, because we almost always simply agreed with each other's ideas, and most satisfying because I am so proud of the result." ...
You can read the entire press release at this link. Clockwork Angels: The Novel will be 264 pages long and release this September to coincide with the launch of Rush's North America tour. The press release also reveals that the hardcover edition will contain full-color illustrations by Syme and that the audiobook will be narrated by Neil Peart himself.
Related Posts:
[Clockwork Angels novelization cover art now available]
[Clockwork Angels novelization by Kevin J. Anderson and Neil Peart now available for pre-order]
[Kevin J. Anderson's novelization of Rush's Clockwork Angels album due out this Fall from ECW Press]
[Author Kevin J. Anderson to write novelization of Rush's upcoming Clockwork Angels album]