UPDATE - 7/23@7:14PM: The Rush Backstage Club is running a promotion starting today where every order (while supplies last) will receive a copy of the Clockwork Angels novel sampler booklet (thanks RushJunkie2112). They have 500 copies available to give away.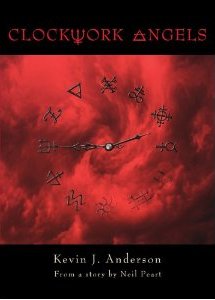 Clockwork Angels: The Novel author Kevin J. Anderson announced earlier today via his blog that ECW Press would be offering for sale special signed and numbered editions of the novel starting this Friday. Here's the official press release that Anderson included in his post:
July 23, 2012 - ECW Press is thrilled to unveil two exciting special editions of CLOCKWORK ANGELS: The Novel (ECW Press, September 2012), the landmark literary collaboration between Rush drummer and lyricist Neil Peart and bestselling SF author Kevin J. Anderson. These two numbered special editions of CLOCKWORK ANGELS: The Novel will be available for preorder on Friday, July 27.

The Silver Edition, slipcased and autographed by both Kevin J. Anderson and Neil Peart, will be a beautiful addition to any collection. This limited edition of 300 copies is available from both ecwpress.com/clockworksilver and rushbackstage.com, for $74.95.

The Gold Edition is a must have for die-hard fans. Slipcased and signed by both authors, The Gold Edition is accompanied by a lithograph image from the book, signed by artist Hugh Syme, and a unique autographed page of the original CLOCKWORK ANGELS manuscript. Both pieces are presented in an attractive frame with an engraved and numbered plate. With only 302 copies available, the Gold Edition will retail for $299.95, and is available exclusively from rushbackstage.com.

The Gold and Silver editions of Clockwork angels will be available for preorder on Friday, July 27, at 10am ET, while quantities last. Special editions will ship on August 31, 2012.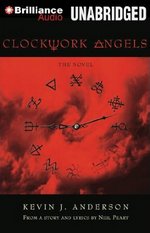 Also, late last week the folks at RushCon announced that Anderson will be Sunday's guest speaker at this year's convention. Kevin will read from Clockwork Angels and share his experience creating the novel with Neil Peart. Books will also be on sale and Kevin will be doing a book signing. Anderson also announced the appearance on his blog and added the following information regarding the audiobook version of the novel:
... this afternoon I was in the studio recording a special afterword for the Brilliance unabridged audio edition of the novel (which is read by Neil Peart). Over the past two days, I worked with artist Hugh Syme to develop a lavish illustrated booklet, 32 pages, which is exclusive to the physical edition of the audiobook. It's been approved by Neil and already off to press. The audio will be released simultaneously with the hardcover novel on September 1, and both are available for preorder now.
You can pre-order the audiobook version of Clockwork Angels (narrated by Neil Peart) at this location, and the hardcover edition here.
Related Posts:
[Clockwork Angels novel sampler booklet giveaway]
[Clockwork Angels audiobook narrated by Neil Peart]
[Clockwork Angels novel sampler booklet at Book Expo America]
[Clockwork Angels: The Novel official press release]
[Clockwork Angels novelization cover art now available]
[Clockwork Angels novelization by Kevin J. Anderson and Neil Peart now available for pre-order]
[Kevin J. Anderson's novelization of Rush's Clockwork Angels album due out this Fall from ECW Press]
[Author Kevin J. Anderson to write novelization of Rush's upcoming Clockwork Angels album]